In the past we have written articles that have covered the importance of warmth, restful sleep and a good breakfast in helping to keep you healthy. Of course there is exercise!
I personally like walking- a good thing as I have 2 dogs who take you out whatever the weather. I always make my way to the village along Grogan's Walk. What a great community asset thanks to the dedicated band of volunteers who look after it so well for us. After all the rain we have had this year it is a pleasure to walk on the gravel path. A couple of years ago the walk would have been unpleasant in all the mud. A great improvement .A panoramic viewfrom the Broomheath end some time ago ( the Taylor Wimpey estate is the giveaway) makes the point well.
( left click and hold the mouse on the picture and move the mouse gently)
Every time I walk along there I usually meet the same select band of dog walkers and pram pushers.
The more mature dog walkers are in no hurry and always stop to discuss the weather, give an update on their latest ailment, make new? friends ,repeat a recent joke or talk about each other's dogs.
Eventually the dogs' patience runs out and they wander off truffle hunting amongst the oak leaves. My whippet/greyhound pursues his own agenda at great speed. I found it reassuring that I have seen the occasional dog who also suffers from CHATS syndrome. If your dog has it you would know immediately as it stands for "Constant Howling At Tree Squirrels".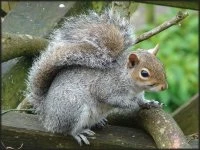 Whatever the issue in life you will usually find opinion is divided. We may all agree there is a problem e.g. power prices too high but we have diverse views on the solution. When it comes to animal welfare emotions run even higher. Fox hunting , badger culling and grey squirrels are prime candidates for heated debate (often on limited knowledge).
More on the grey vs red squirrel debate another time