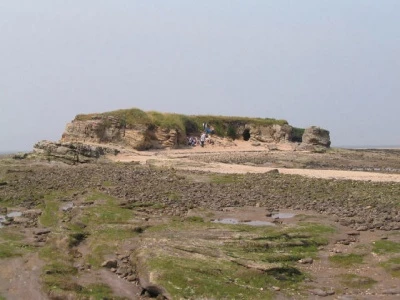 Cheshire Wildlife Trust looks after a network of 45 nature reserves (including the area around
the Roman Bridges) with habitats ranging from grasslands and wet meadows to reedbeds, coastal dunes and wetlands.
They have organised a number of events over the summer including guided walks at some of its reserves and arts and crafts activities at its wildlife friendly sites. More information on the events can be found at the Cheshire Wildlife Trust website

Guided walks include a visit to Hilbre Island. I remember going on a visit to the island when I was at primary school and being fascinated by the range of wildlife. Its well worth a visit especially with a guide as the sands and the fast tide can be dangerous.
The islands are cut off from the mainland by the tide for up to 5 hours out of every 12 hours. When planning your journey you must find out the time of high water and allow sufficient time to complete your visit to the islands and your return journey to West Kirby safely. It is possible to visit the islands over high water, in which case allow for a stay of at least 5 hours whilst the tide is in, or alternatively, you can walk there and back over one low water period.
When visiting over high water set out from West Kirby leaving the Dee Lane slipway at least 3 hours before high water, or 3½ hours on large tides 9.5 metres or higher, to allow for a stay of 5 hours or more on Hilbre. It is safe to leave Hilbre 2½ hours after high water to walk back to West Kirby.
If visiting Hilbre over the low water period leave West Kirby Dee Lane slipway at least 3 hours after high water. When departing from Hilbre Island you must allow yourself sufficient time so that you leave Hilbre at least 3 hours before high water or 3½ hours on large tides 9.5 metres and higher.
Allow 1 hour for the 2 mile crossing, allocate more time if you walk slowly, or have small children. Leave Hilbre no later than the latest crossing time, or you may be trapped by the tide. Be aware that strong winds may bring the tide in early or suddenly.
See the following website for more details