A year ago we published an article about Movember.
Do you remember what's it all about?

Movember is about bringing back the moustache (Mo), having fun and doing good to change the face of men's health, specifically prostate cancer, testicular cancer and mental health. Prostate cancer particularly has a high profile nowadays with 40000 cases diagnosed each year. For more information click hereMen take action by changing their appearance through the growth of a new moustache for the 30 days of Movember, and in doing so become walking, talking adverts for men's health.
Several famous "Mos" I am sure you will recognise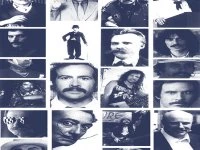 Click to enlarge
If you feel up to the challenge to sport a Mo then here is a list of foods to approach with caution:-
Cappuccino
Glass of milk
Toffee Apples
Ale, Guinness or any brew served with a fine creamy head
Candy floss
Egg yolk
Spaghetti Carbonara
Soup
Sticky BBQ ribs
Flaky croissants
Kebabs
Sugary doughnuts
Did you know?
Albert Einstein had a moustache for over 50 years.
Groucho Marx for many years wore a fake moustache of greasepaint on stage and film, then grew a real one later in life.
In 1967, The Beatles gave away cardboard moustaches with their album Sgt. Pepper's Lonely Hearts Club Band.
Women are more attracted to men with Moustaches. Fact.
In a deck of cards, the King of Hearts is the only king not to have a moustache.
A one month old moustache is capable of holding approximately 30ml of liquid or around 10% of a glass of beer before leaking its contents down the face of the owner.
Salvador Dalí published a book dedicated solely to his moustache.
On average a man with a moustache touches it 760 times a day.