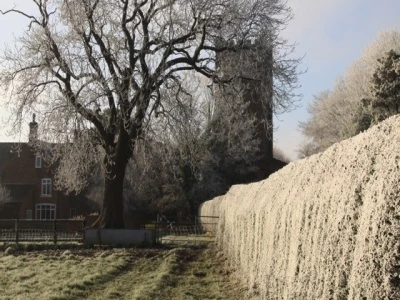 Once again we welcomed John Evans (Director of Music at Hoole Methodist Church ) to St Andrew's' last Friday' 27th May, when together with his wife Angie, they entertained us with a varied programme of "light" music. Such a lovely light summer evening, with the doors of the church wide open, was the ideal setting, for what was a very appropriate selection of organ music and delightful singing.
The first three pieces played on the organ by John were on a wedding theme, with German's "Festive Trumpet Tune", Bach's ever popular "Jesu, Joy of man's desiring", and Bourgeois' "Serenade". Both Bourgeois and Bach had composed their items to be played at their own weddings. Vierne's "Berceuse" followed next, accompanied by a series of thought provoking images displayed on a screen. Two delightful duets from Angie and John, "Think of Me" and ""Fanshawe's "The Lord's Prayer". were accompanied on the organ by St Andrew's Director of Music Michael Reynolds.
More images, produced smiles and laughter from the very receptive audience, for Joplin's "The Entertainer", and the concert concluded with Young's "Prelude in Classic Style", Saint- Saens' renowned "The Swan", and Smetana's "Dance of the Comedians"
Join us again for our popular Summer Recital on Friday 17th June, featuring Michael Reynolds. But be there at 7.00 p.m to enjoy our Summer refreshments prior to the concert.