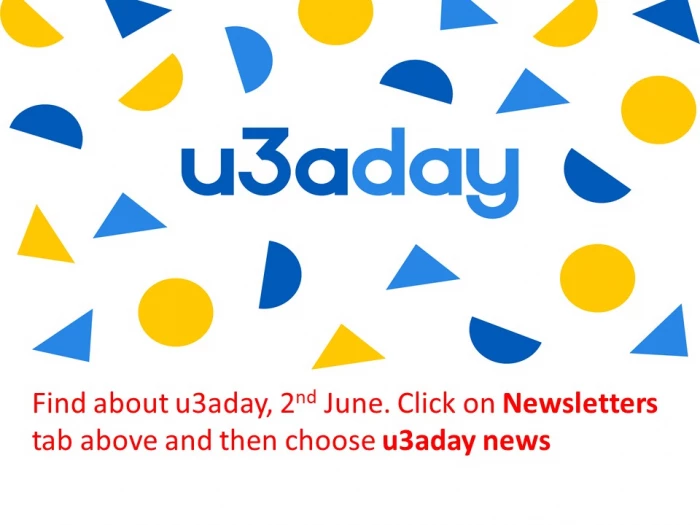 It couldn't be a better time to celebrate our fantastic organisation for retired people and to plan for the gradual, long awaited return to physical meetings.
Tarporley and District U3A is alive and well! We have been keeping our very loyal members in touch through our monthly newsletters and online meetings with a speaker on the fourth Thursday of every month. Many of our interest groups have been thriving by going online. There has been no stopping Photography, Local History, French, Spanish, Italian, Play Reading, Art Appreciation, Book Group, Theatre Studies and many more, meeting over Zoom and sharing knowledge and fun.
Incredibly, new interest groups have sprung up during lockdown, in particular, the very successful
Nature Group. As soon as we are free of restrictions more new groups are waiting to begin, for
example Ballroom Dancing. Our walking groups are already out walking again, observing all the
relevant Government guidelines, and there are plans in the pipeline to resume our Trips and Outings with the hope of a holiday sometime next year. Our next few Thursday speaker meetings cover Japanese Culture(May), the history of Roberts Bakery (June) and the story of Butlins Holiday Camps (July).
Our members live all around the area so if you have retired or semi-retired either before or during
the Pandemic and are looking for a way to make new friends, explore new interests or share long held passions – somewhere to Learn, Laugh and Live -well, Tarporley and District U3A might be just the place for you.
You can find out more from our website where you will be able to read our newsletters and find out how to join. Once again, this year there will be a discount from the full membership fee of £15 per year to £10 for the year ahead. A warm welcome awaits either online or at the resumption of our monthly meetings.
In the meantime, look out for the u3aday logo and items in the media on 2nd June!