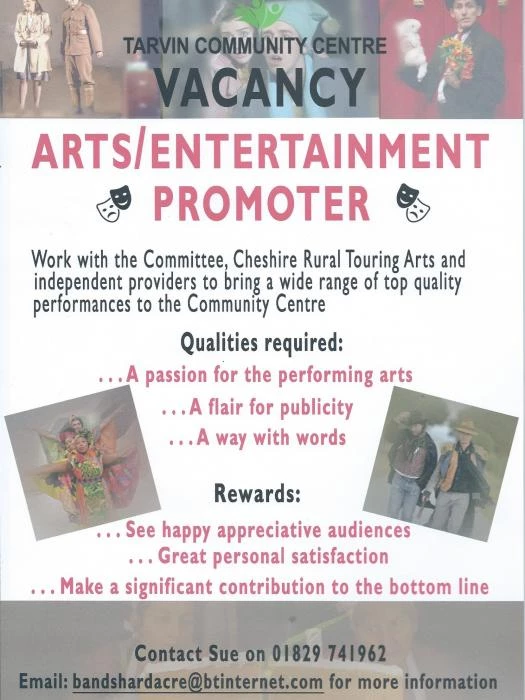 The Community Centre Committee is looking to appoint a new Art Promoter to develop the Centre as a venue for arts and entertainment in rural west Cheshire. The Centre hosts 5 or 6 main arts events in the year and would like to build on this success.
Sue Hardacre, the current promoter says "With the changes to the Committee that are happening in May, there is a need for current Committee members to take on new roles. I have been the promoter for 6 years but will be unable to give it as much time when I take over the Booking role. It's a great deal of fun, and when you get an appreciative audience like we did on Saturday night when 153 people packed the Hall to see Robin Ince, you get a great deal of satisfaction".
The Committee is looking for someone who loves the performing arts and has a flair for publicity. They will work closely with Cheshire Rural Touring Arts, Ashton Hayes Theatre Club and other commercial and volunteer organisations to bring the very best performers to the village.
Sue says "Whoever steps forward will have the full backing of the Committee. We are fortunate to have an excellent venue and recent improvements to both lighting and sound means that we can offer professional, technical back-up to performers. With our off-street parking and lovely Lounge Bar, we have all we need to create a really special place for our residents to have a great evening of entertainment ..... and we are a bit cheaper than Storyhouse!"
To find out more, call Sue on 01829 741962 or email her on bandshardacre@btinternet.com