Happy New Year!
I hope you all drank a toast to the New Year as Big Ben struck midnight.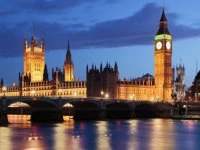 It may seem like an ancient tradition, but the idea of today being a holiday is comparatively new -- in fact it is just 41 years old.
Bank Holidays are themselves fairly modern affairs, dating back to just 1871, but it wasn't until1973 that a decision was taken to nominate the 1st January as a holiday as well starting in January 1974.
Of course we couldn't let the Scots miss out so 2 January became an additional bank holiday in Scotland.
The name Bank Holiday of course comes from the time when banks were shut and so no trading could take place.
Some cynics might say it was done as it seemed a good idea just to give people the day off work as half the country was perhaps insensible on the morning anyway.
Certainly a letter to the Times in Jan 1968 suggested that "absenteeism was high on the 1st Jan, and it might make sense to shift a Spring holiday to the 1st to assuage the problem".
Curiously, there then seems to be an almost total absence of any debate or commentary about the proposal to make New Year's Day a bank holiday until it suddenly popped into existence as a Royal Proclamation in October 1973 following a government announcement earlier that month.
Other cynics speculated that Jan 1st 1974 happened to also mark the introduction of the 3-day week ( remember that?) as part of the energy crisis due to a coal miners strike. So giving everyone a day off work could have been just a way of cutting energy use in a convenient manner!
If so, it is a curious legacy of the coal miners strike than Jan 1st has become a traditional Bank Holiday -- especially as there is a tradition that the first person to cross the threshold of your home on New Year's Day should offer a lump of coal as a blessing for the year ahead!
A quirk of the existing Bank Holiday legislation is that Bank Holiday's have to be reconfirmed every year, otherwise they don't happen -- hence the use of a Royal Proclamation.
Lets hope the Queen keeps proclaiming.
Tarvinonline looks forward to bringing you all the best in 2015.

(Ed. Much of this was taken from an original article by Ian Mansfield)