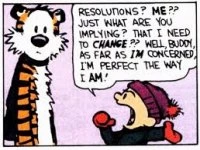 Despite this I bet many of us secretly make a New Year's resolution. Why secret ? well I think its just in case we fail. Research shows that only 1 in 10 are likely to achieve their goal.
The experts say just the opposite in fact and you should tell your friends and family about your goals. You're more likely to get support and want to avoid failure. Based on previous year's experiences I am not convinced!
Whilst its not in the Tarvinonline Constitution we always aim to make Tarvin a healthier place as many of last year's articles tried to do.
So I list what are probably the most common NYRs revolving around our health:
Lose weight
Quit smoking
Get active
Drink less alcohol
Eat more fruit and veg
I admit to having two on this list and none of us need to change anything else do we?
Immediately I fall foul of one of the experts whose top tip is to make only one resolution. He says your chances of success are greater when you channel energy into changing just one aspect of your behaviour.
Also we should avoid previous resolutions. Deciding to revisit a past resolution sets you up for frustration and disappointment. Been there thank you Prof but after New Year's Eve needs must!
So why do we continue to make them? Welcoming in the New Year with a pledge to ring the changes is far from a modern phenomenon. The ancient Romans and Babylonians began each year by making promises to lead a better life.
Come February, few of us I fear will be walking around with our perfect figures and glowing skin. In fact, after the long dark month of January, we can hardly be blamed for reaching for the odd comforting slice of cake or glass of wine – and perhaps a month of freezing rain is not the best time to decide I'm suddenly an 'outdoorsy active' person.
Lycra in the rain?- never a good look on me at the best of times
Some top tips
Don't put it off

Remember people used to say life is three score years and 10? Imagine each decade is a day of the week: if you are between 20 and 30 you are already on Wednesday, and for many of us we are into the weekend!. Crikey its even Sunday for me this year!
If there is something that's important to you that you have resolved to do, when you feel it slipping ask yourself: 'given that I'm on day X, if not now – when?'
It's probably not impossible

Henry Ford once said that "Whether you think you can or you can't, you're probably right
It is so important to reward ourselves on the way
so its back to the cake and wine again?
Don't expect instant results

Remember, it takes approximately four weeks for you to notice changes to your body, your partner about eight weeks to notice and twelve for the outside world, so stick at it! (I will be around Tarvin at Easter then)
If you are trying to achieve some other challenge then we would love to hear from you at editor@tarvinonline.org
Best of luck from the Tarvin Webteam