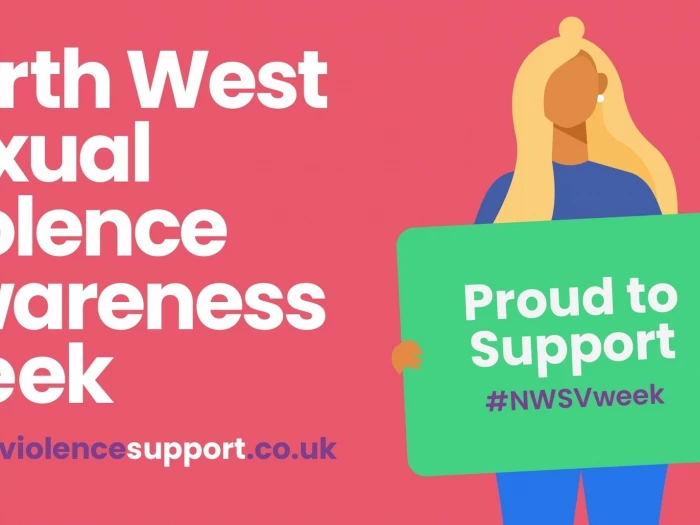 Local authorities, police forces and charities are marking North West Sexual Violence Awareness Week, which runs this week from 3-10 November 2022.
It is all too easy to assume that issues like Sexual Violence and Domestic Violence doesn't impact a community such as Tarvin, but we all need to accept the reality that Sexual Violence does not respect any kind of demographic or geographic boundaries.  Nationally, sexual violence is an under-reported crime.  It's not always noisy and the bruises and pain are often hidden by victims or told to hide them by the person hurting them.  You may not realise that the person in the post office queue or that person in the school run, or the person serving you in the pub may be a victim – or a perpetrator.  The key is to reassure victims that they will be listened to if they report it.
The phrase sexual violence is an umbrella term that refers to crimes such as sexual abuse and assault. It refers to any unwanted sexual act or activity including rape, sexual abuse, sexual assault and sexual harassment.as Police and Crime Commissioner, John Dwyer says:
"It is my responsibility to provide funding for victim services. His partnership with the Rape and Sexual Abuse Support Centre (RASASC) and Cheshire CARES, who provide support for victims of crime is essential to ensuring that victims are helped through their recovery process.
A priority of the awareness week is to reassure survivors that they will be listened to, as well as sign posting them to the support services that are available. The campaign targets all demographics across the North West and particular activity will be aimed at ethnic minority groups, men, young people and LGBTQ+ groups."
The North West Sexual Violence Awareness Week has a number of key objectives, including:
* Increase public insight and information on sexual violence and the support services available to survivors across the North West
* To raise awareness of sexual violence and what it is across the North West
* To raise awareness of the services available to sexual violence victims within the North West
* To ensure that each contact point for a survivor to report to is streamlined and access to information is similar
* To make the information on sexual violence services easily accessible and concise
* To educate communities of the freedom of choice when reporting a sexual offence
* To promote the inclusivity of services and that they are there for you no matter your age, gender, or ethnicity.
For more information visit:  www.sexualviolencesupport.co.uk 
For more information please contact Kate Harrington-Lambert on 
kate.harrington-lambert@cheshire.police.uk about:blank or 07815 674817
Office of the Police & Crime Commissioner
01606 364000
Email: pcc@cheshire.police.uk
Address: Clemonds Hey | Oakmere Road | Winsford | Cheshire | CW7 2UA
Website:  www.cheshire-pcc.gov.uk