By Eric Plenderleath - 22nd October 2013 6:30am
Tarvin residents turned out in force on Saturday 19th October to celebrate the completion of the newly constructed 1.2 metre wide wooden edged footpath, which now runs the whole length of the Woodland. The enhanced surface now enables everyone, whether walking, cycling, running, pushing a pram or negotiating a wheelchair to enjoy travelling through the area.
The event coincided with the last day of Tarvin Primary School's fourth annual Community Exhibition, and visitors were welcomed to the school by headteacher Andrew Davies, who emphasised the enormous educational benefits that his pupils continued to enjoy by being in such close proximity to the Woodland.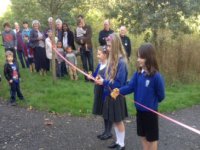 The official opening of the new pathway, was appropriately carried out by the three pupils, Rebecca Ridley Thomas, Evie Mulligan, and Rebecca Cheadle, who have been the three annual recipients of an environmental award donated by the Tarvin Woodland Trust.
Speaking on behalf of the Trust, Chairman Stuart Excell gave a short history of the Woodlands development, and of the continuing work needed to maintain and improve the facility. He thanked the two sponsors, WREN (the body who make grants from the money collected as a result of the landfill tax), and Chester West and Chester Rural Development Fund, for their generous financial support.
Stuart also thanked the Tarvin community for supporting the local fund raising initiatives, which had contributed £2,000 to the £21,000 scheme.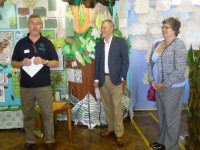 In reply, Councillors David Robinson and Eleanor Johnson, both of whom represent both sponsoring bodies, congratulated the Trust on its achievements.
They pointed out, that the enormous support for the project, shown by members of the Tarvin community, had enabled the grant application to "tick all the necessary boxes" in pursuit of the required sponsorship.
Trustee John Daines was able to announce that the Tarvin Woodland had been awarded the national "Green Flag--Community", for the fourth consecutive year.
The proceedings were brought to a close by Eric Plenderleath, speaking on behalf of the Community, who thanked the sponsors for their generosity, and the Trust members, who not only carried out the administration work, but who led by example, together with volunteer help, to maintain and improve the Woodland.
See more photos on Tarvin Community Woodland Website here
popular recent storiesAlso in the news