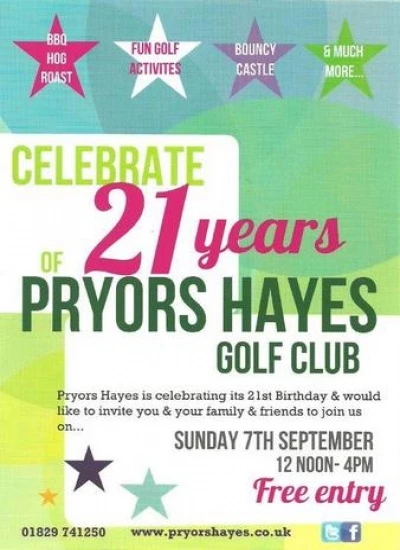 Pryors Hayes Golf Club is inviting local families and friends to an Open Day on the Sunday 7th September to celebrate its 21st Birthday.
Entry is free for the event that will begin at midday and last till little ones are tired out at 4pm.
In addition to the obligatory bouncy castle there will fun golf activities to test the skills of all age ranges of the family, and there will be the additional excitement of finding out what the flyer promises will be "much more".
If the energy levels dip because of all this activity you will be able to replenish them at the BBQ and Hog Roast.
When Pryors Hayes went into administration last year many must have wondered if Pryors Hayes Golf Course with its Wedding and Functions facilities would be lost to our Parish for ever. So the fact that it has not only survived, but is being significantly improved by its new owners, for locals to use and enjoy into the future, makes the fact that it has even managed to reach its 21st Birthday an even more special reason for celebration.