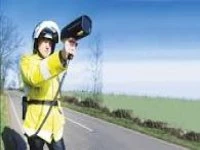 Residents of Oscroft have been asking the Clerk and Parish Councillors what progress is being made on the changes to the speed limits discussed towards the end of last year. At that time discussions were held between residents, Parish Councillors, Cheshire West and Chester Council, and the Police to see if extending the 30 mph coverage along the rural roads would improve pedestrian safety in the area.
The Parish Council has heard that a Speed Limit Assessment was carried out by Highways and given to the Police earlier this year. The Police assessment has taken longer than expected to complete and has only just been received by the Highways Department Staff. This now has to be 'considered' before any recommendations can be made.
The Parish Council shares the frustration of residents and will continue to apply steady pressure on all concerned to come to a conclusion. They recognise that there is a precise legal process that must be completed, that decisions have to be taken within national guidelines, and that money and resources are tight. However this is an issue that will not go away, nor, with new housing being built in Tarvin, will the problem diminish by itself.
Patience is a virtue needed by Parish Councils, but a lack of progress does not indicate a lack of concern nor a willingness to forget what needs to be done. Hopefully there will be positive news to report sooner rather than later.