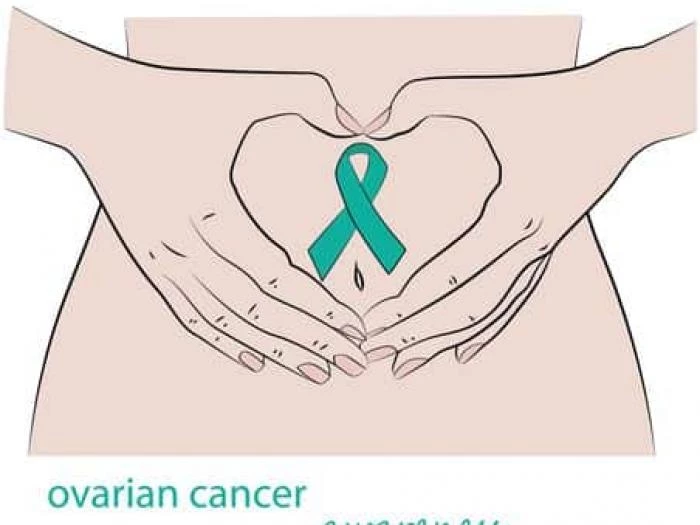 Today marks the start of Ovarian Cancer Awareness Month.
When a woman is diagnosed at the earliest stage, her chance of surviving ovarian cancer for five years or more doubles from just 46 per cent to more than 90 per cent.
However, nearly half of GPs mistakenly believe symptoms only present in the later stages of the disease, and less than a third of women in the UK are confident they know the symptoms.
Ovarian cancer is when abnormal cells in the ovary begin to grow and divide in an uncontrolled way, and eventually form a growth (tumour). If not caught early cancer cells gradually grow into the surrounding tissues and may spread to other areas of the body.
Symptoms of ovarian cancer
The symptoms of ovarian cancer can be very vague, particularly when the disease is in its early stages.
See your doctor if you have any of these signs and symptoms:
feeling full quickly
loss of appetite
pain in your tummy (abdomen) or lower part of your abdomen that doesn't go away
bloating or an increase in the size of your abdomen
needing to wee more often
Other possible symptoms
tiredness that is unexplained
weight loss that is unexplained
changes in your bowel habit or symptoms of irritable bowel syndrome, especially if this starts after the age of 50
These are all symptoms of other less serious conditions but if you have them or anything else that is not normal for you get them checked out by your doctor.
The National Institute for Health and Care Excellence (NICE) recommends that if you have the following symptoms 12 or more times a month, your GP should arrange tests – especially if you're are over 50:
swollen tummy (abdomen) or bloating
feeling full quickly or loss of appetite
pain in your abdomen
needing to wee more often or urgently
Seeing your GP
You should see your doctor if you notice a change that isn't normal for you or if you have any of the possible signs and symptoms of cancer.
Even if you're worried about what the symptom might be, don't delay seeing them. Your worry is unlikely to go away if you don't make an appointment. The symptom might not be due to cancer. But if it is, the earlier it's picked up the higher the chance of successful treatment. You won't be wasting your doctor's time.
Try not to be embarrassed. What you tell your GP is confidential. Doctors are used to discussing intimate problems and will try to put you at ease.
Getting the most out of your GP appointment
When you see the doctor, it can be difficult to remember everything you want to say. These tips will help you get the most out of your appointment.
Tips
-Write down your symptoms including when they started, when they happen and how often you have them.
-Write down if anything makes them worse or better.
-Tell your GP if you are worried about cancer in particular.
-Tell them if you have any family history of cancer.
-Ask the GP to explain anything you don't understand.
-Ask the GP to write things down for you if you think it might help.