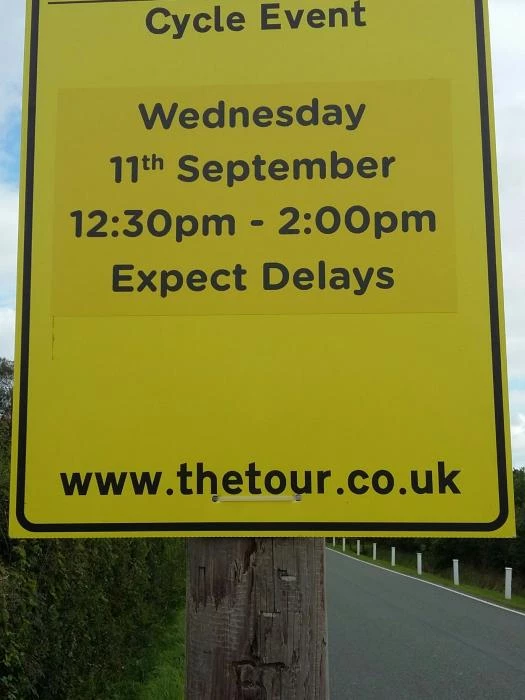 The OVO Energy Tour of Britain, the UK's biggest professional cycle race, will be passing through Tarvin Parish on Wednesday 11 September in the 5th Stage, from Birkenhead and back, a distance of 174.1 Kilometres
Beginning in George Square Glasgow on Saturday 7 September, the eight day race will take the world's top teams and riders across a 1,250-kilometre route through the south of Scotland, England's North East and North West and the Heart of England before the finale takes place in Manchester for the first time in 15 years on Saturday 14 September.
The race will cross A41 Whitchurch Road from Saighton Lane to Eggbridge Lane, Waverton and then proceed as follows:-
Egg Bridge Lane from A41 Whitchurch Road to Guy Lane
Guy Lane from Eggbridge Lane to Ryecroft Lane
Rycroft Lane from Guy Lane to Broomheath Lane
Broomheath Lane from Ryecroft Lane to Cross Lanes
Cross Lanes from Broomheath Lane to A51 Tarporley Road
A51 Tarporley Road from Cross Lanes to Tarporley Road
Tarporley Road from A51 Tarporley Road to Cross Lanes
Cross Lanes from Tarporley Road to The Green
The Green from Cross Lane Willington Road
Willington Road from The Green to Chapel Lane.
If you cannot catch the real thing, there will be live coverage from 10.45 on ITV4 and highlights at 20.00 hours
Ed: The photograph shows one of the warning signs that have been put up on the route, with one on Cross Lane just outside Oscroft and this one outside Pryors Hayes Golf Club. Although the signs indicate a time between 12.30 to 14.00, and warn of delays, there are no planned road closures. Delays, however, can be expected when police temporarily close off roads adjoining the race route.