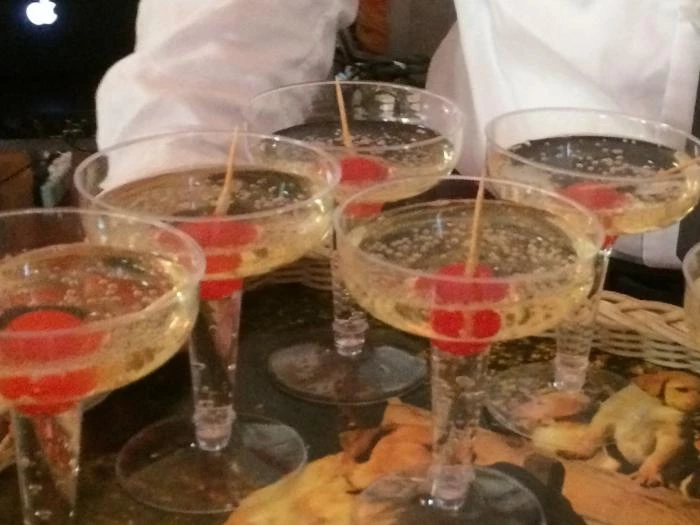 A total of 82 paying customers – plus a quartet of complimentary guests and some of the Committee – filled a very warm Community Centre on Friday evening (26th May) to enjoy the CRTA sponsored performance of Lightning under their Skirts. They were welcomed with a glass of Babycham and a piece of pineapple and cheese on a cocktail stick, and if the significance of this eludes the reader they should appeal to their parents – or grandparents!
Set at the time when the attitudes of the 1950's were being challenged by the new energy of the age. Harvey Robinson was impressive as Gary, whose sharp and brittle sexual confidence was easily shattered by both his girls' unplanned pregnancy and the smothering support of his mother. It was Sandy, his put-upon sister sympathetically played by Josie Cerise, who finally broke the chains to the past and strode off confidently into the new world. Writer Joy Winkler provides a touching and lyrical poetic chorus as well as a strong performance as Mother, whose own seemingly ordinary, blameless, public life held grubby secrets.
Promoter Sue Hardacre said "The play was a little more serious than expected but contained many references that resonated with the audience. Like many others I remember Californian Poppy perfume and stiffened underskirts." After an interval where the attraction of the bar was equalled by the need for fresh air, the company performed a number of songs from the era interspersed with a 60's themed quiz to send the audience home with smiles on their faces.
There were one or two concerns. Apart from the temperature, there were some problems catching all the dialogue clearly. Joy Winkler had been suffering from a cold all week and her voice struggled at times. The "in the round set" was created with seats being no more than three deep, but the intimacy of the piece was sometimes stretched by the need to seat all the audience in the Hall.
Sue says "I am currently making the choices for the next season, as usual there will be something interesting, something different and something well worth seeing. I hope that Tarvin will continue to support our theatrical endeavours with enthusiasm".