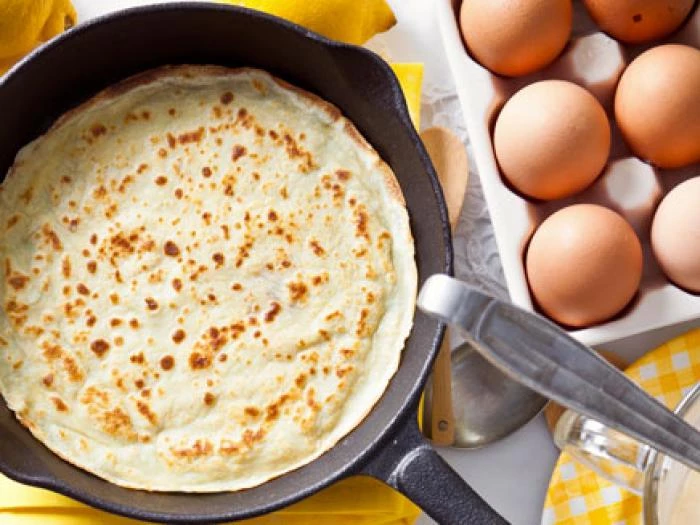 A Pancake Celebration!
It was several years ago that Barbara Rawden decided that Tarvin Methodist Church should, as a fund-raiser, have its own celebration of Shrove Tuesday at her home on Deansway. With the help of several of her wonderful neighbours, she produced pancakes throughout the afternoon for a large group of very happy Chapel folk and, such was her success, it became a regular event.
Then came the pandemic!
Now that we are able to run events again, the question arose – "Will there be pancakes on Shrove Tuesday?" After the break of two years and with the numbers steadily increasing (the event's reputation has spread!) it was decided that more space would be needed and so we would clearly have to move the event into Tarvin Methodist Church itself. This isn't a problem – we have an excellent (5-star) kitchen – but we were short of proper pancake pans. This is where living in Tarvin is so wonderful – an idle mention over coffee in Ozge's Café resulted not only in the loan of several pancake pans but also a large food mixer in which to make the batter. Ozge is a lovely lady and we are so fortunate to have her café on the High Street!
Came the morning of Shrove Tuesday and the Chapel ladies set to work, whipping up industrial quantities of pancake batter, ready for the doors to open at 2pm. Lots and lots of people came along and enjoyed as many pancakes as they could eat – there was no charge but, instead, people were asked to make donations to Tarvin Methodist Church's funds. We even had three young ladies from Tarporley High School who came in, requesting "Pancakes to go!" The whole afternoon was a great success. One of TMC's events was, once again, back at the centre of things on Tarvin High Street and it was a joy to see so many folk enjoying themselves. Watch out – we intend to repeat our 'Pancake Celebration' next year.
Ed: Yummy!