By David Keogh - 28th January 2020 6:00am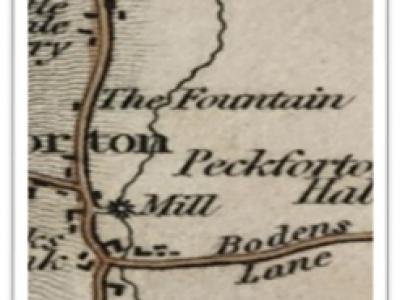 Bryant 1831
This is a wider map view of the mill area and the R.Gowy. Bryant's maps are generally regarded as the most accurate of the 19th century.
Here, the river is flowing directly to the mill then swings diagonally to Peckforton Mere, not directly north. This might be significant if the accuracy is accepted. Fifteen years later, in the tithe survey of 1846, the surveyors omitted the river for some inexplicable reason.
Tithe Map 1846
The Gowy is missing! Notice how the top arrow shows the river along the field boundary heading north whereas today it turns east at this point. Curious.
Did the Gowy follow another course or did in branch into two?
The Gowy flows directly north from the mil before making what seems an unnatural turn west. Did the river have two channels? The one (red) shown by Bryant dried up, or intermittent and the other channel altered to carry the flow from the mill? Clearly, the straightness of the river from the mill is a sure sign of control to increase the flow.
Was the course of the Gowy further east centuries before?
A feature barely visible on the above map is the overflow flow from the mill-pool (below) that later forms part of a diversion of the Gowy. The assumption is the course continues as before. However, the mill does not continue as evidenced in the 1898 OS map.
Was there an earlier mill on the site or further downstream; at the turn east perhaps?
O.S. 1898
With the mill-pool now a marsh, the mill ceased about 1890, or a little earlier, as in 1890, the Peckforton Estate acquired Bunbury Mill.
O.S. 1910 On the 1875 map the first diversion of the Gowy was proposed. Now again, the Gowy has been diverted around the mill-pool but also on a new course. This must mean it was diverted further upstream possibly by, or above, Peckforton Hall Lane.
The are other intriguing matters still to research
popular recent storiesAlso in the news