If I said to you 'Porridge' what would immediately spring to mind? As is often the case I expect it depends on your age.
For me 'Porridge' was the sitcom created by the BBC in the 1970s. About the residents of Slade Prison it starred Fletch played by the late Ronnie Barker. The title came from the expression "doing porridge" and referred to the traditional breakfast dish commonly served in British prisons years ago.Cooked with water or milk,every mother ( including mine) knew that it was 'good for you'. I think then it was more likely to be because it filled me up cheaply on a cold winter morning.
Samuel Johnson is said to have mocked it as "a grain which in England is given to horses but in Scotland supports the people" but he admitted to Boswell that he only said it "to vex them". Who would do that with a referendum coming up?
But the Scots should not feel too smug about this. Porridge is a descendant of pottage, a thoroughly English institution, and the fact that most of us buy porridge oats in a box bearing a picture of a kilted Scotsman should not trick us into thinking that the Scots invented it.
Everyone I know who is a porridge eater has their own particular favourite oats, cooking method and consistency.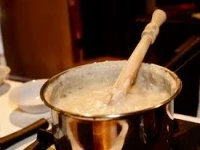 I am now the proud owner of a spurtle to stir the brew but admit I am still unsure which end you should hold and which stirs the oats.
Scots purists believe that only salt and milk or cream should be allowed as accompaniments. In Northern Ireland once though the hotel offered me malt whisky as well. It seemed a waste to put it in porridge at breakfast but I forced it down not to offend the owner.The English, supposedly the healthier race, often go for sacrilegious sugar ( Demerara in my case).
We know today that a good breakfast is a key part of staying well over these cold winter days (together with keeping warm) no matter whether you are young or old. I doubt whether fifty years ago anyone guessed at the miraculous properties now being ascribed to porridge. There seems to be nothing this 'superfood' cannot do.
I read that oats are good for the heart and libido. They are said to lower blood pressure, absorb toxins, scour artery walls ,sharpen brains, increase longevity, lower cholesterol levels, help with weight loss and on and on. As I walk to the village I am convinced that Tarvin residents must be regular porridge eaters as some of these attributes are apparent. Some even claim that porridge oats help children to concentrate at school! I must stop giving the grandchildren just toast.
For years I looked across the kitchen at the incredibly tall, muscled and athletic Scotsman in his white vest and big socks on the cereal packet. I believe at one time the adverts said that porridge kept him frisky. Always I had to take care with the phrase "getting my oats"!
So enjoy your breakfast, start the New Year with this good Resolution and stay healthy this winter.
(Ed. Acknowledgment to Elizabeth Grice for her 2009 Daily Telegraph article)