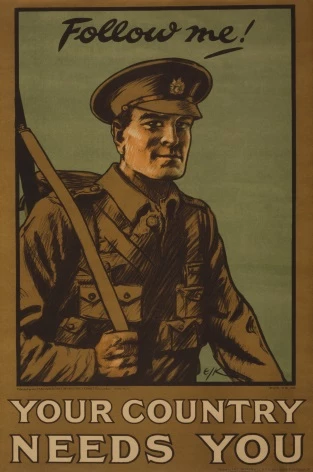 During WW1 letter writing had a great effect on morale for both those serving and for families at home. The army had been given its own postal service in 1882 independent from the General Post Office and by 1914 this had been absorbed into the Royal Engineers.
On the 17th August 1914, just two weeks after the outbreak of war, an advanced Post Office was set up in Le Havre so that soldiers could write back to their loved ones. Getting letters to and from the Western Front was an enormous logistical feat. By 1916 a temporary Sorting Office had been constructed in Regents Park which, at the time, was the largest wooden structure in the world.
The system was a miracle of efficiency. Every week twelve and a half million letters left Britain for Flanders; that's sixteen thousand mail bags a day. There were deliveries in the trenches every morning and by and large, it took no more than two days for a letter to reach the Front. Letters and parcels containing home comforts meant an enormous amount to the soldiers but they also sent parcels back.
While they were encouraged to write home, soldiers were under strict instructions about what they could and could not mention. Officially this was to stop sensitive information reaching enemy hands because mail ships were frequently targeted by U-boats but it was also because of concern about the effect of bad news on morale at home. Techniques used to stop men giving away too much included 'honour envelopes' which wouldn't be opened by the censor but to use one of these, the soldier was required to sign a sworn statement that the letter only contained what was allowed.
Wounded servicemen would be given a 'field post card' which was a form containing multiple choice statements: 'I am quite well' or 'I have been admitted into hospital'. If admitted to hospital, then it was 'I'm sick and I'm going on well' or 'I'm wounded and hope to be discharged soon'. No other additions were allowed so there was nowhere to say, for example, 'I've had both my legs blown off and I'm bloody miserable.'
All normal letters would be opened and read by a junior officer before being posted.
It's hard to exaggerate just what the letters meant to people; not just the men who sacrificed so much on the Western Front but those friends and family left behind waiting anxiously for news. It's a sign of the great power which the post had that many soldiers used to send extraordinarily delicate, elaborate, embroidered silk cards as well as the usual letters.
When writing home Soldiers tended to hide the horrors of the war and concentrated on reassuring loved ones that they were coping well and looking forward to the end of hostilities.
The letters which have survived to the present time and which give us such precious and intimate glimpses of the lives of men who served, are here because of our postal service which played such a pivotal role in the war effort.