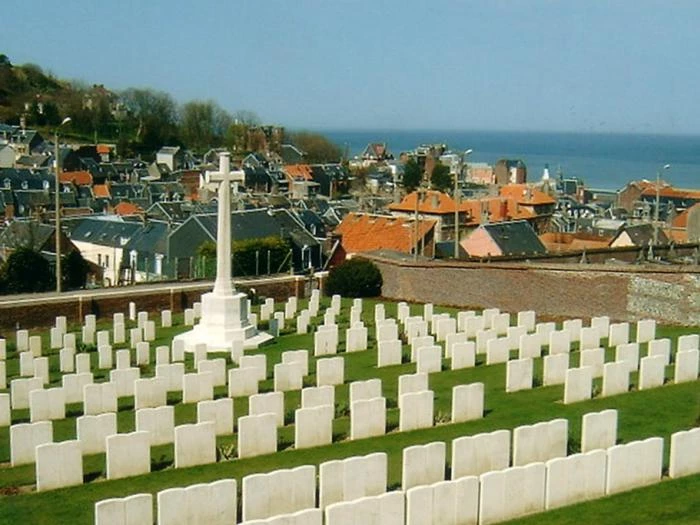 Almost a million British soldiers died in the First World War. Some died alone, killed by a chance shell, grenade or bullet. Many died together as they attacked or defended against attack. Thousands of men died from wounds at the medical facilities along the casualty evacuation chain. Many died of illnesses or accidents.
Some men would have been identifiable and probably buried close to the front line. These men would be identified by comrades, NCOs or officers. Some men would be less easily identifiable but probably buried in cemeteries or burial plots still close to the firing line. Identification would be through pay books, tags and other physical means. Some men would be unidentifiable if the damage to them was such that they ceased to exist as a body or where any form of identification had been lost. Fragments of men, once found, would be buried if possible. Many men were simply not found.
Many thousands of small burial plots were created on or very close behind the battlefields. They were often damaged by shellfire and, in 1918, many were over-run first by the advancing enemy and later by the allies pushing eastward again. Plots were destroyed as the ground was shelled and the locations of many graves that had been registered and known about were made uncertain. Cemeteries were also created at most of the places where Casualty Clearing Stations and Base Hospitals were located. In most cases the men were identified but some of these cemeteries also suffered from shellfire or other damage when they were over-run by the enemy and then the counter attacking allies.
Once a man was confirmed dead, the next of kin were informed. For officers, it was by telegram; for other ranks it was by receipt of Army Form B104-82. In the battlefield conditions, it wasn't always possible to be sure if a man was dead. Soldiers who were simply not there were recorded as 'missing' on Army Form B104-83. Enquiries would be made to see if he was in enemy hands. If no news was heard after six months, the man's death would be recorded as taking place on the last day he was known to be alive.
Those soldiers who were missing presumed dead are recorded on the major memorials in the theatres of war. In this way every man is commemorated even if no trace was ever found of his physical remains. However, not all men were recorded. A relatively small number were simply missed by the administrative processes of the time. A project is now underway to determine who they were in order to have their names commemorated at last. It is called the "In From the Cold" project.
After the war, work began to recover all those soldiers whose bodies remained on the battlefields. Sections of the battlefields were taped off into grids and systematically searched. The search parties (Exhumation Companies) looked for clues which would indicate that a body or bodies could be buried there. For example: rifles or stakes protruding from the ground bearing helmets or equipment; partial remains or equipment that had come to the surface; small bones or pieces of equipment brought to the surface near to rat-holes; discolouration of grass, soil or water. (Grass was a more vivid colour where bodies were buried and water turned a greenish black). Once a grid had been searched and possible bodies marked, then the task of exhumation began. Remains, once discovered were put into cresol soaked canvas for identification. If any uniform remained, pockets were searched and badges and buttons identified. If a Scottish soldier was found, the tartan was recorded. Next, they looked for identification discs and personal effects. Watches sometimes had useful inscriptions; sometimes knives, forks and spoons that had been placed down the puttees carried the man's name, initials or number. Webbing was checked because it often had soldiers' names or numbers stencilled on. If the remains were deemed to be an officer and the skull or jawbone was intact, then a dental record of the teeth, fillings or dentures was also made. Those remains which could not be identified were buried an unknown soldier.
Human remains are still being found on the battlefields to this day.