UPDATE FROM TAYLOR WIMPEY in response to questions from Tarvin Parish Council

'Dear Residents' Mon 24th June 2013
As we have just recently commenced work on our new Development at Saxon Heath, Tarvin I just wanted to give you a quick progress update. I will drop you a note once a month to keep you informed of what we have done in that month and going forward what we are planning on doing.
June 2013
The first job since starting on site has been to form up the new pond area and newt habitat in the field across the road from the site, we have also formed up a car park and some landscaped gardens to house the temporary sales office.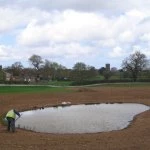 Since opening Carol our sales executive has sold 2 no. plots (Plots 5 + 8).
As of Saturday 15th June we also started the trapping for newts in certain areas of the site, this trapping takes 30 days from the 15th June. So far the ecologist has managed to find one newt and it has been placed within the existing pond.
McPhillips Ltd are our ground work and roads + sewers contractor they have now dug the foundations for the show homes these are plots 2,3+4, they are also forming up the 1st section of road that also forms the bell mouth onto Tarporley Road, they will be looking to tarmac this section of road within the next week.
Taylor Wimpey will be taking a presence on site W/C 8th July, within that same week we will be commencing brick work on the show homes with an opening date of September 2013. I will keep you informed of this date and make sure that our sales Manager David Hynda gets you all an invite to the grand opening!
You will be aware that we are currently carrying out our off-site foul + storm sewer , I apologise for any inconvenience this will cause you over the next 5 weeks.

These works are essential works and could not be carried out without shutting the road for this period; we are doing our best to try and better the 5 week programme and get Tarporley Road fully operational as soon as possible.
Phil McHugh – Production Manager – Taylor Wimpey North West