The long-awaited clean-up of the Roman Bridges started on Friday 22nd November.
Masonry specialists, MJR Masonry Services, Liverpool, have been contracted by Planning and Transport of Cheshire West and Chester to carefully and sympathetically remove all the graffiti and at the same time preserve the stonework of this historic structure
MJR was formed 5 years ago by Martin Rigby and has been a significant contractor to CWaC especially with regards to removing graffiti from Chester's historic walls and buildings, and, attending to the initial examination of and subsequent repairs of the sandstone walls.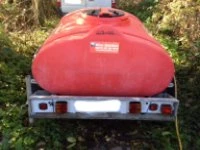 To remove the graffiti from the Roman Bridges MJR will use a high pressure washer fitted with an oscillating nozzle using clean water pumped from a water bowser parked some 60 yards away. This will remove some of the paintwork without damaging the render.
In areas where this is ineffective then they will apply specialist graffiti removal chemicals, first spread by hand using a stiff brush, followed by more pressure washing.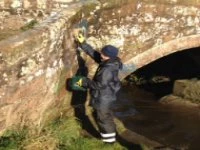 This is expected to be completed in the next 2 weeks subject to the weather