By Tarvin Webteam - 2nd November 2013 6:30am
Following the night of mayhem in September when the Roman Bridges and Tarvin Recreation Field were subject to a campaign of grafitti the Webteam thought it was now time to provide an update on the actions taking place behind the scenes.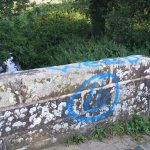 Action 1
The following appears on the Mickle Trafford Neighbourhood Policing Team news on the Cheshire Police website
Message from Inspector Curbishley
"2 Tarvin juveniles have admitted to Police being responsible for mindless spray paint graffiti at a number of public locations in Tarvin village. Unfortunately the historic roman bridges were targeted for this mindless vandalism which brought considerable local media attention due to the sites historic interest. The damage took seconds to do but will cost £1000's to repair and will require considerable effort to put right. The roman bridges will require specialists to restore the stone work back to its original state. After consultation with parish councillors and Tarvin's heritage champion both offenders will be contributing to the repairs and will also be spending considerable time themselves removing the damage under the supervision of the council as part of a restorative justice process.
I would like to thank all members of the public involved with this inquiry which has resulted in a prompt and positive outcome and may have prevented further incidents taking place."
Action 2
Message from Tarvin Parish Council:

The Parish Council has received letters of apology from the two young boys who did so much graffiti damage to property recently. While not everyone feels that the Restorative Justice programme is appropriate, the Parish Council approves of the police action in this case and believes that the two perpetrators will have learned a real and lasting lesson.
The cost of cleaning some of the damage to date has been met by the parents of the two boys involved. The cost of the repairs to the Roman Bridges, yet to be undertaken, will be more significant as specialist cleaning methods have to be used.
Acts of damage and vandalism are an ongoing concern, though Tarvin is not a particular problem area. Residents are asked to report any damage to the Clerk and/or the Police and to remember that all of us have a responsibility to look after the area we care about so much.
Action 3
Removal of the Graffiti from the Play area and surrounding structures was removed by Streetscene and reported in our article in September..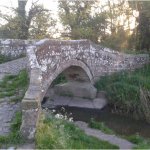 The vandalism to the Roman Bridges structure will take a while longer to remove.
A master mason will be contracted to tackle this delicate job, work may start before the end of November (subject to confirmation).
Watch this space for more updates