Have you read the latest Chester Chronicle?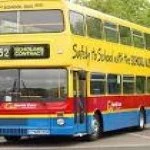 I could not believe the article on school bus policy changes by CWaC affecting Tattenhall school children. For some children it appears that either they will get free school transport or else support from the "school transport mitigation fund". There was comment that "parent power" had a big part to play in this policy reversal.
Tarvin Parish Council when making enquiries about possible re-consideration of the school transport policy now that control of CwaC changed with the recent elections has not even had a reply from CWaC. as reported at the last Parish Council meeting!
So its time to get Tarvin parents raising the profile of the position our children are faced with.
Raise your concerns again with our Parish Council to show our support for their actions and write to our two Borough Coucillors Hugo Deynhamand John Leather