By Tarvin Webteam - 22nd January 2014 6:00am
Consultation closes Friday 24th. January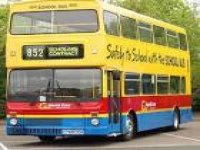 Tarvinonline has published 5 articles since the 7th of November urging Tarvin residents to look carefully at the proposals by CWaC. You don't have to be a parent to make your views known to our elected representatives- just care about the impact it will have on the children of our Community both now and in the future. Your Parish Council made some very clear and powerful arguments as to why these proposals should be rejected as we reported in December .
One last plea has come to our attention today from Sarah Lee the Head Teacher at Tarporley High School in her letter to all Parents and Carers.
She re-emphasises that the best way to get Councillors attention and show concern is for all to respond individually to the Cheshire West and Chester consultation on these proposed changes to school transport which can be accessed via this link
If you have not already responded to the consultation, you must do it this week as the proposal closes on Friday 24th January 2014.

We repeat from the school letter the following key points:-
Under this proposal, children joining the school from September 2015 from Tarvin and part of Duddon would no longer be entitled to free transport to Tarporley High School.

It is very important that there are as many responses as possible objecting to proposal No.1: 'Under 16 School Transport — Catchment School'
( see p6 of the Consultation document available in the link above)
There are a number of reasons that you may want to raise in responding to this proposal in the context of the Tarvin area including:
During that 4 year period of transition from September 2015 the proposals would be likely to cost more. Most importantly, the proposals in respect of Tarvin and Duddon would deliver NO SAVINGS because the cost of a bus from Tarvin or Duddon to Tarporley is the same as the cost of a bus to Christleton.
The nearest school is Christleton and this school is already heavily oversubscribed with pupils who live nearer to Christleton.
The effect of the proposal, if implemented, will be to divide the children in Tarvin on social and geographic lines. Not all will be able to afford bus fares and will as a result go to different secondary schools depending on where they live in the Tarivn area. Currently over 90% make a successful and happy transition to Tarporley High.
The argument that the council wishes to future proof itself against changes secondary schools might wish to make to catchments that would cause the council to incur increased transport costs is not valid. The borough could simply freeze current catchments as the basis for its provision and therefore remove any future uncertainty.
Given that there are no savings to be made, why would the council wish to pursue them, against community feeling and to the detriment of children's happy and smooth transition to secondary school?
In addition to expressing your views in the questionnaire above you can also write making these or other points of your own to:
School Transport Consultation, Children and Young People's Services, Cheshire West and Chester Council, Floor 3 HQ, 58 Nicholas Street, Chester, CH1 2NP
Please also copy your letter to:
Councillor Mark Stocks — Executive Member for Education and Children
Stephen O'Brien MP
Local Councillors Eveleigh Moore-Dutton, Hugo Deynhem and John Leather
Gerald Meehan — Strategic Director of Children's Services
The Headteacher finished her letter with the following:-
"I would like to reassure parents that I, as Headteacher, and the Governors of the High School, are committed to ensuring that all children within our catchment area who would qualify for free transport to Tarporley High School under the current policy of CW&C will be able to do so in the future."