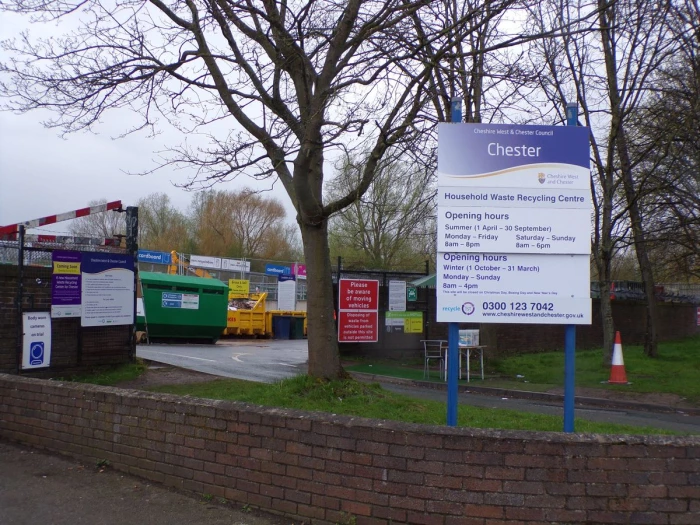 Cheshire West and Chester Council are reopening some of their Household Waste Recycling Centres but for strictly essential use only.
The Council is following Government and industry guidance and has worked with their contractors, HW Martins, to agree the best approach based on local conditions within agreed safety guidelines. Your safety, along with protecting our staff, is our first priority and all site users are expected to follow the rules that have been published.
Following updated Government guidance we have put in practical arrangements and can now open our sites in Chester, Ellesmere Port, Winsford, Northwich and Neston (permit required) on Tuesday, 12th May.
The Frodsham site is opening three days later on Friday,15th May. The road approaching this site is short with a 90-degree bend which makes it difficult to pass oncoming cars. Queuing traffic for the recycling site may cause an unnecessary safety risk. Currently appropriate traffic management arrangements are being made so that the site is safe to open on Friday 15 May 2020. Ellesmere Port is the nearest site for Frodsham residents and is opening on Tuesday 12 May 2020.
The Tattenhall site is NOT reopening, as there is insufficient capacity on the road for queuing traffic. This site is very small and difficult to adopt effective social distancing measures. The surrounding road network poses significant highway risks including the nearby hump-backed bridge that restricts the vision of drivers. It is not safe for cars to queue on the nearby roads. Chester is the nearest site for Tattenhall residents and is open seven days a week.
Residents should only visit the recycling centre if their journey is absolutely necessary. This means that if the items stored at home cause a health and safety risk such as injury, illness or harm to the household then the trip is essential. Otherwise, please store your waste at home until normal services resume. Please seriously consider whether your visit is essential before you set out on your journey to your nearest site.
To make your visit to the recycling centre easier:
Long delays and queues are likely. Please assess if your journey really is essential and allow extra time.
Do not travel to a site in a van, commercial vehicle or with a trailer, you will not be allowed to enter.
The number of vehicles allowed on site at any one time will be restricted due to social distancing, and queuing times will be significantly higher. So please assess if your journey really is essential.
Waste must be separated before travelling to the site.
Please wear gloves if possible to reduce the risk of infections.
Site employees will not be able to assist with unloading your vehicle due to social distancing. Please make sure you are able to lift items and carry them to a skip safely yourself or bring another member of your household with you to help.
For opening times and further details please see website:
https://www.cheshirewestandchester.gov.uk/news-and-views/incidents/coronavirus-covid-19/services/household-waste-recycling-centres.aspx