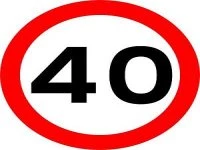 The Parish Council is delighted that CW&C has decided to extend the 40mph on Tarporley Road along its full length to the junction with the A51. This should make getting out of the new estate easier for residents and improve safety overall for all road users.
The assessment done by CW&C indicated that the average speed of most traffic was in fact 38.3 mph, which might surprise some residents! However the Police also supported the change which will be funded by monies put aside by the developer, Taylor Wimpey, to fund certain road improvements.
Changing road speed limits has to be done to a strict procedure and a consultation of affected residents must be conducted. The Parish Council will be looking to seek the views of residents affected, which should include all properties along the road from Ducker's Well south to the junction with the main road. It will also include residents on Saxon Heath.
CW&C has provided a sample document used in other similar cases so the Parish Council hope to get this done as soon as possible.
51% affected properties must show themselves to be in favour of the change for it to be implemented.