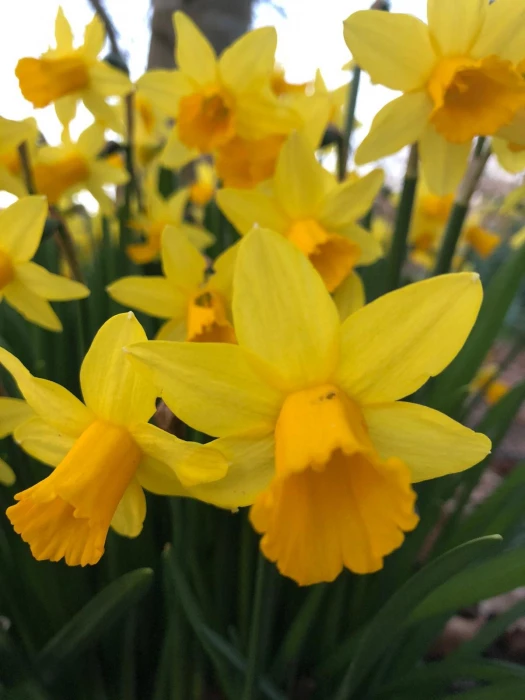 Now the Autumn equinox is upon us, the woodlands, and gardens are starting to look lovely with all the spring flowers and we feel a warmth in our bones, we can truly look forward to better days.
The Spring Equinox (or vernal Equinox) is the official start of spring when the days are the same length as the nights. (Although I'm not getting the hanging baskets out just yet... we aren't free of frost until May).
I wondered if there were any ancient traditions linked with the Spring Equinox, as this year, after a winter of being more cooped up than ever before, Spring seems so much more significant, more symbolic in a way.. So I looked up some Spring Equinox traditions around the world and remembered a couple closer to home!
New year celebrations for Many Persian countries and communities
The Spring Equinox marks the beginning of the New Year in Iran and Uzbekistan. The original religion of the Persians was Zoroastrianism, based on the teachings of Zoroaster (aka Zarathustra). This traditional holiday is still celebrated even though the religion is now a minority one.
In Iran, it is a fortnight-long festival known as Nowruz, it is a celebration of rebirth. A feast table is prepared with spring flowers, seeds and foods symbolising beauty, patience and prosperity.
In Uzbekistan, the holiday is known as Navruz. Sprouting wheatgrass is displayed and families come together to feast and celebrate, mush as we do at Easter and Christmas. In many other countries, Kurdish communities celebrate Nowruz:
In Kyrgistan: Families gather and burn Juniper branches to ward off bad spirits and play horseback sports.
In Turkey: Kurds celebrate with bonfires to symbolise the coming of the light spring days, On Spring Equinox day, new clothes are worn, spring flowers gathered and people dance, sing and recite poetry. Pottery is smashed for good luck. Many families will make trips to the countryside to be with nature.

In Afghanistan: Afghans drink a special fruit and nut drink and bake biscuits which are often packed into a picnic and taken as the family goes on a nature walk. Kite flying is very popular in Afghanistan and this is a traditional time when kite flying competitions are held. These aren't to find the prettiest kites, these are serious competitions of kite fighting. many Afghan hands bear the scars of kite strings as they fight to have the last kite flying!
Chinese Kite Flying
In ancient China, people would write their medical problems on small paper kites. When the wind took the paper, they would cut the string and allow them to fly away, symbolising the illness floating away on the wind. Not so sure if that works for physical illnesses but in modern meditation practice, we try to visualise our troubles and concerns floating away for at least the duration of the meditation. It's a good visualisation to help us sleep if there's a lot on our mind.
Nowadays, in many Chinese villages, kites are still flown around the time of the Spring Equinox.
Chinese Egg Balancing:
In some parts of China, it is believed that it is possible to balance an egg on its end. many people in China have egg balancing competitions!
Japanese 'Day of the dead'
In the week-long 'Shunbun No Hi' festival relatives pay their respects to those who have passed, rather like the Mexican Day of the dead. Families visit graves of their loved ones and refresh flowers, clean graves and leave incense as an offering to console their ancestors. Families gather and eat a sweetened azuki bean wrapped riceball known as 'botamochi'
Seed swapping:
A whole bag of seed potatoes may be too much for one garden. This time last year, I was sharing and swapping seeds with my neighbours. We left half packs of seeds or a few seed potatoes on each other's doorstep. Isn't it odd what gets us excited; I was so pumped to be growing my own food again after years of not doing it because of work or the commute. Hardly surprising that many of my neighbours have been doing this for years.
Spring Cleaning:
Many people do a deep clean of their homes or start having a big clear out, perhaps doing a room every weekend. We start to feel like getting ready for the warmer, brighter days. Evenings are lighter and we feel more energised for these kinds of tasks.
Visiting the Chiropractor:
We all seem to crawl out of hibernation and get into our gardens or have a huge clearout at this time of year, but the weather is still cold and we can sometimes be tempted to do too much too soon. Many Chiropractors and Osteopaths say that this is their busiest time of year by far!
Whatever you do at this time of year, take care and...
Stay safe Tarvin!