The Parish Council takes a great deal of time and effort to make sure that the Parish looks as smart and attractive as it can. There is a constant effort to make sure that litter is dealt with, that the grass is cut regularly and that weeds are dealt with. The Council has a small 'Streetscene' working group that reports regularly on these issues. This pressure has seen an improvement in the relationship between the Parish Council and the Highways Department of Cheshire West and Chester Council, and consequently the Parish is looking much better.
However there is one issue where little seems to be happening, the deterioration of some of the footpaths in the Parish that lie outside the village centre.
Tarvin is fortunate to have a semi-rural feel and to have many well used footpaths that are bounded by hedges and green grass. In summer, both the hedges and the grass grow vigorously and the paths become overgrown and difficult to negotiate. Some hedges are the responsibility of the adjacent landowners, but some are the responsibility of Cheshire West and Chester Council. Keeping the grass area from encroaching on the hard surface and picking up the litter that gets entangled in the vegetation is most definitely a Cheshire West and Chester Council responsibility.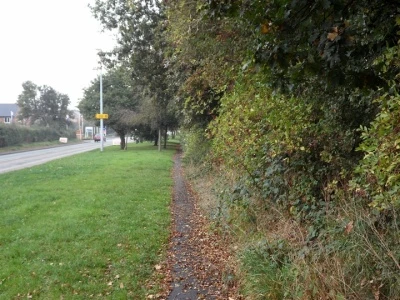 Areas causing particular concern are Tarporley Road towards the A51, together with Holme Street and Byepass Road on the A54. In some places the path is reduced to less than a foot wide making it impossible for two people to walk side by side. When remedial work is done the effect is immediate and welcome, as residents walking from Hockenhull Lane to the High Street and south on Church Street can testify.
The Parish Council recognizes that the Highways Department budget is tight but continues to push tenaciously for a reasonable slice of that budget to be spent in Tarvin and for clear indication to be given about when such work will be scheduled. The Parish Council urges residents who are affected by this issue to use the Cheshire West and Chester Council websiteto report problems whenever they occur.