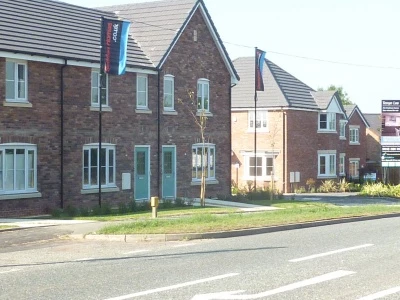 Villagers will have watched with some interest as the old Copper Kettle site has been transformed into a smart enclave of new houses. The show house is now open for business and some landscaping along the front of the roadside properties has softened the site considerably.
It is expected that building work on the 18 houses will be completed during October.
There are 12 houses for sale on the open market. Of the other, six are being managed by Dane Plus Housing Association, four are for sale through co-ownership and 2 are for rent. Five properties have already been sold.
Elaine Cartwright is the Sales Consultant on site, and is in the office from Thursday to Monday from 10.00am to 5.00pm. She said "The first houses were sold off plan and are smaller 3 and 4 bedroom properties overlooking the open farmland. They have a wonderful view across the fields towards Barrow."
Interest in the remaining houses remains steady with plenty of visitors coming to see the show house. However the general housing market in this area still appears to be rather flat and many people who would like to move here still have unsold properties. The old 'chain' problem has always held up many house sales. Recent economic indicators have been positive and if this continues and confidence grows, then Elaine is confident that the properties will sell quickly. She remarked "Once the construction team is off-site and the area fully landscaped, the attractive qualities of the development will be even more apparent."
The attractive qualities of Tarvin village are definitely one of the stronger selling points of the development. Elaine has the details of our website www.tarvinonline.org and feels that it will be of great benefit helping new-comers settle into village life.
For details of the remaining properties and prices talk to Elaine on 0845 456 0025 or drop in and see her. For further details go to the builders website