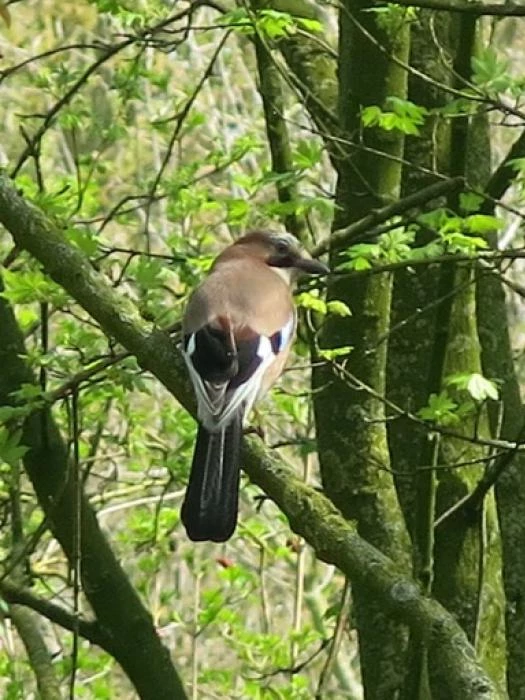 February 2020 marked the third anniversary of the monthly Bird Species Survey being carried out in the Woodland. Although it is still far too early for any of the results to be conclusive, we are becoming aware of some trends in bird population and, indeed, how the birds are using the different parts of the Woodland and the adjacent areas, including the neighbouring houses and gardens.
Although the whole Woodland is an important corridor for birds, the resident population varies according to the age and density of the trees. Several species such as tits and blackbirds, robins and goldfinches, can be seen throughout the Woodland, whereas some species, such as wagtails, woodpeckers and nuthatches are local to particular habitat areas. For example, wagtails are more readily seen at the Saxon Heath end whilst the woodpeckers and nuthatches occupy the opposite end between Hockenhull and Townfield Lanes, where the trees are older. Different habitats mean different food sources and the thistles at the Austins Hill end attract goldfinches, but, as yet, that location does not provide any feeding opportunities for Greater Spotted Woodpeckers.
If there was any doubt before our surveys began that the Woodland was important for winter feeding opportunities, none remains now. We have discovered that the Woodland, itself holds a small winter population of goldcrests and increased winter populations of tree creepers, amongst others, whilst the School playing field and the pony paddocks at the Townfield Lane end are important feeding grounds for visiting Redwings and Fieldfares.
As far as breeding species are concerned, we can be certain that the Woodland supports at least sixteen species, including mistle and song thrushes, but we still have a lot of work to do to improve the habitat in order to attract a wider variety. As the next several years pass, the Wilding Area will benefit from further opening of its canopy and the increase of the number of bush-like species, such as hazel, to improve the under-story. This, in turn, will increase nesting and feeding opportunities. And so the work of the woodland Trustees continues........
Ed: An article originally written for the Trust's newsletter that, because of the current circumstance, will not now be distributed around all of the village.