HAWTHORN
(Crataegus monogyna)
My childhood was spent growing up in Flintshire. I feel very old when I say that it was an entirely different time – a time when the farm behind our house had cows that were milked by hand and you could buy milk from the farm in a jug, a time when the farm had both a tractor AND a magnificent carthorse (called Duke) and the 'hedging and ditching' was done by hand (and then only very occasionally).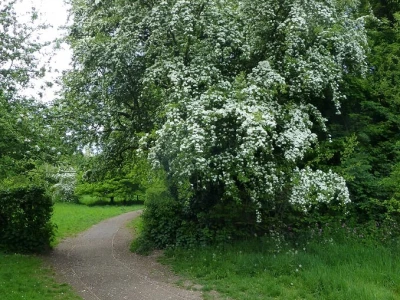 The result was that, in late spring, all of the field and lane hedges were clothed in sheets of pure white blossom – May blossom. They were, of course, hawthorn hedges and the blossom was May blossom – resulting in the tree's alternative name – the May. It is an interesting fact that the May tree is the only British plant which is named after the month in which it blooms.
Hawthorn or May (also known as quick-thorn or white-thorn) is an ideal plant with which to form stock-proof hedges. If planted along a fence-line and allowed to grow to the size of a tall shrub, it can then be 'cut down' in a very skilful way, so that the branches and stems are cut into but not severed and can then be bent sideways and interwoven. The resulting "laid" hedge is sufficiently strong to be able to keep cows and sheep within fields, without risking escape.
Tarvin's woodland was formed from a set of orphaned fields, left after the A51 Tarvin bypass was built. The original hawthorn hedges remained and, neglected, were allowed to grow so that, by the time that Jim Grogan and friends took the woodland in hand, they had become not-so-small trees. The two Johns (John Plant and John Sim) took them in hand and, against the odds, turned them into the magnificent laid former field-boundaries that you can see today. These hedges are better maintained than the hedges of my youth and are now trimmed by the volunteers each autumn, which means that they will bear little in the way of blossom next year.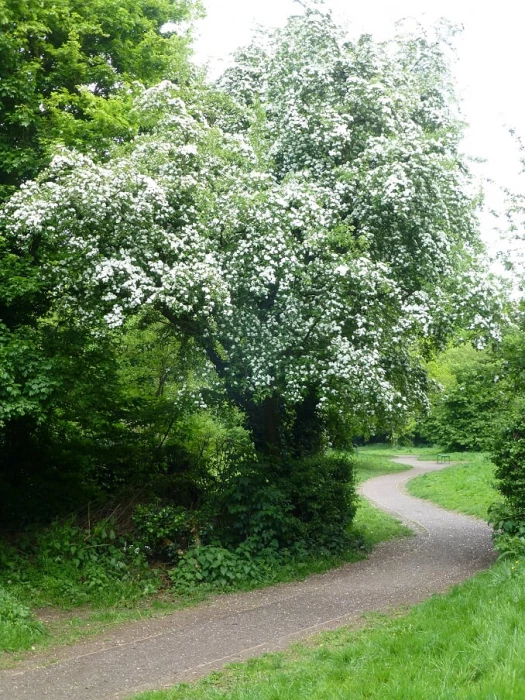 However, there are a number of May trees that have been deliberately planted in the woodland and allowed to grow as specimen trees, so that they can sport their magnificent cloak of white blossom each spring. The effect is truly stunning and it, alone, can make a walk in our woodland really worthwhile. While taking whatever exercise you are permitted during 'lockdown', why not have a walk through our lovely woodland and enjoy one of the sights with which Nature provides us – entirely without cost?