By Tarvin Webteam - 11th June 2014 6:00am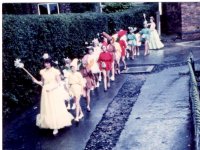 Tarvinonline recently received a message from a resident who was a Tarvin Carnival Queen over 20 years ago.
She said " I'm quite dis-heartened that I've not seen any notices about how to enter my daughter for the Fete Queen. I've lived in the village all my life as have my family for many decades. My daughter couldn't attend Tarvin Primary school as we live in the oldest part of the village and we had to send her to Duddon. I understand the Fete Queen was chosen from the Tarvin school pupils only!"
" When I was selected for Tarvin Carnival Queen we held a "village" girl selection night which was widely advertised around the village so all girls had the chance to be selected"
" Please could you let me know why this selection process wasn't open to All village girls and could this be something that could be changed in future years."
We thought this was a fair point and so passed this email on to Jo Richards the present Tarvin Fete Organiser who replied as follows:-
"I'm sorry if you feel that we've used an unfair way of choosing the Fete queen. This year there will be a Fete King and Queen who have been chosen randomly from the names of children at Tarvin Primary school."
"I think you've made a valid point in saying that there are village children who attend schools outside the village. Next year we'll find a way to make it more inclusive. In the meanwhile, I hope you'll be there on the 28th because we value the views of people like you who have had experience of previous events."
(Ed. Sounds like we will be having a Tarvin Fete in 2015 or should we call it a Carnival?!)
popular recent storiesAlso in the news