When buying fish and chips or curry and rice have you ever wondered about the building you are standing in?
There is a date stone on the gable end, which, until about 3 years ago was just readable and said I. SADLER 1753.
It was one of the village's 3 public houses, known as The Bull's Head! In 1828 it had Mary Pigot as landlady and in 1864 Charles Pigot (presumably her son) took over. It had ceased trading by 1890.
There was then a refreshment room on the premises run by Mrs. Bull- whilst in the yard behind "Teddy" Bull sold frozen mutton.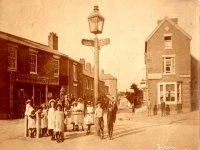 In the 1901 census the building became very cosmopolitan. Annie Edwards aged 30 was head of the household and came from the Paddington area of London. She had lodgers- Zaccheus Woodfin from Saughall who became well known in Tarvin and is referred to in a previous article.
Also lodging were, a 29 year old lady Mabel Terry nee Partato from Truro in Cornwall who was a Theatrical manageress. Perhaps maiden names were put in a different way in 1901 as she appears to be married to an Italian subject called Charles Edward Partato- also a theatrical manager. They have a 1 year old son, Edward Terry Partato who had been born in Mexborough Yorkshire but was also an Italian subject.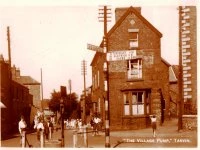 There are very large gaps in this brief history of a Tarvin building. Perhaps some readers can update the happenings at the shop between 1901 and the present day. I do recall a Launderette at the side of the building, probably in the 1970's.
(Ed. Fascinating history and photos-click to enlarge)