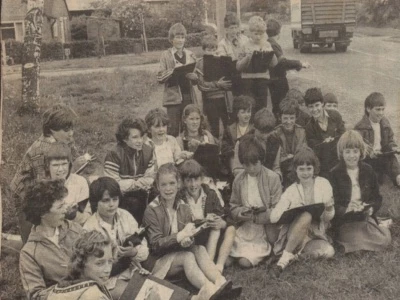 Continuing our regular visit to the Local History Scrapbooks, there is an article from the Chester Chronicle on the 25th May of that year "Tarvin By-pass opens."
It was reported at that time that "Congested Tarvin village is in for a traffic-free future now the new south westerly by-pass (A51) opened on Monday evening. The new road was completed six months ahead of schedule and has taken less than a year to build."
There is a related article "Keeping tabs on traffic" which features the children from Tarvin Primary School who conducted a traffic census on a Friday afternoon. Their figures showed that traffic travelling through Tarvin to Nantwich had dropped by 75% since the new by-pass opened!"
Ed: "We could do with another survey counting how many Trucks now use this road as a short-cut from the M6!"
Do you recognise anyone from the photo? click on it to enlarge