By Tarvin Webteam - 13th June 2013 11:44am
by Jonathan Pepler
First, some necessary background.
Until the Law Terms Act of 1830, Cheshire was an anomaly in the English system of justice. While serious crimes in the rest of England were dealt with in the Assizes, Cheshire was part of the Welsh system based on the Courts of Session (not to be confused with Quarter Sessions). This was a legacy of Cheshire's status as a palatinate in the mediaeval period, when the Earls of Chester had extensive independent powers owing to their important role in managing the Welsh border. In 1542, Henry VIII sorted out the administration of Wales according to the English model, abolishing the quasi-independent Marcher Lordships and setting up new shires and a system of courts of Great Sessions, based on four circuits. One was based on Chester and comprised Flint, Denbigh and Montgomery. Cheshire's palatinate status was left relatively untouched, and it became de facto another part of the Welsh system.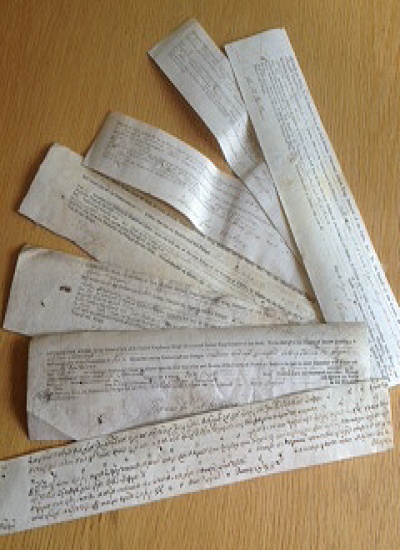 The courts covered both criminal and civil business, the state prosecuting criminals and individual citizens bringing cases against each other, typically for debt.
The records of the criminal and civil work of the court were removed to London in the 19th century, and are now in the National Archives. The records of the Welsh courts were transferred early in the last century to the National Library of Wales in Aberystwyth; among them were a many of the subsidiary records of the civil side of the Chester Court of Session covering the period from 1660 to1830.
Finally, in 1991, these records were returned to Chester, and are now in the process of being sorted out.
One of the quirks of the English legal system (at that time) is that much of it is based on fictions; many of the early stages in bringing an action in law came to depend on using accepted false allegations to start the process. Thus if A claims an unpaid debt against B, his first step was to issue a writ of 'quare clausum fregit' which alleged that B had broken into his close, or field, with force and arms, and trodden down his grass to the value of £X; of course no such event had taken place. If the case ran its full course, the jurors would finally consider the real facts of the case and reach a decision.
Now the mystery
For reasons which have yet to be discovered, it became conventional to allege that most of the alleged miscreants were 'formerly of Tarvin' and their criminal activities had been carried out there!
Not only was Tarvin full of people breaking into each other's fields and trampling grass for all they were worth, but almost every debtor who had of their own free will requested a loan from a creditor — and been accommodated — also lived in Tarvin, and agreed there to repay the loan when asked; most of those who ordered goods and merchandise and failed to pay, were of course resident in the village.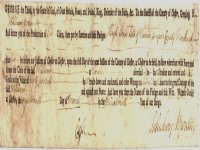 Puzzling though this may be, there are further complications!
Although Tarvin is cited in probably more than 50% of instances, it is not universal; again, we might try to explain it as a form of shorthand, but in a number of writs in the late 1600s individuals are described as 'AB formerly of Tarvin, yeoman, otherwise AB of Somerford Booths (or wherever they were actually from), yeoman', so it ends up as a longer formula than it needs to be. This formula extends across the social scale. In July 1684 Sir Willoughby Aston set about recovering a debt owed by James Davenport to the estate of his late father Sir Thomas Aston; James was Sheriff of Cheshire at the time, and a prominent member of a gentry family from Woodford near Stockport, but the initial writ nonetheless describes him as "James Davenport late of Tarvin, esquire, now Sheriff of the County, otherwise James Davenport of Grays Inn, esquire". It appears that as time passed, Tarvin became ever more the default location.
Regrettably at this point in time, there is no solution to the mystery, but perhaps someone out there knows the answer.......or perhaps Tarvin was actually a real sink of iniquity...