On Thursday evening – just as our gardens are blossoming into gorgeous shades of pink, mauve and purple – Tarvin Meeting Point discussed all things purple.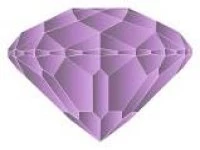 Unlike, say, red and blue, there is no scientific definition of purple in terms of the wavelength of light, and it covers a whole range of hues, from lavender and violet to magenta and true imperial purple, the colour of kings and emperors (a reflection of how expensive purple dye, obtained from shellfish, was until relatively recent times).
Purple is associated with spirituality and passion, with luxury, mystery and magic. Amethysts, the quintessential purple gemstone, appear in both the Old and New Testaments and were once more valuable than diamonds, until large-scale mining in Brazil caused the price to tumble.
Many plants, including herbs and vegetables, have purple flowers or foliage: one of the prettiest is honesty (Lunaria annua), more familiar to most of us through its coin-like silvery seed-pods, while a sea of purple heather or, moving south, of Provencal lavender, is gloriously uplifting.
Purple has associations with a range of groups and organisations, including the Boy Scouts and the Suffragettes; less happily, Jehovah's Witnesses in Nazi Germany were made to wear a purple triangle.
US servicemen wounded or killed in combat receive a Purple Heart, and the "purple pound" is associated with spending by disabled people.
The meeting delighted in Jenny Joseph's famous poem "Warning", and agreed it perfectly encapsulates a desire to grow old disgracefully:
"When I am an old woman I shall wear purple
With a red hat which doesn't go, and doesn't suit me.
And I shall spend my pension on brandy and summer gloves
And satin sandals, and say we've no money for butter.
I shall sit down on the pavement when I'm tired
And gobble up samples in shops and press alarm bells
And run my stick along the public railings
And make up for the sobriety of my youth..."