There has been much discussion among educationalists – professional and amateur – about the value of learning history by imagining you were there, but this format provided for an entertaining and absorbing evening for Tarvin Meeting Point on Thursday (26th) evening.
Thanks to the research done by members, the evening proved quite moving at times.
The Tudor period provided two iconic events with the execution of Anne Boleyn at the Tower of London in 1536 and the sinking of the Mary Rose in the Solent on July 19th 1545.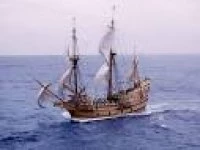 A terse but evocative description of the voyage of the Mayflower and the landing in America written by William Bradford highlighted the courage and faith of the early settlers. An account of the murder of Martin Luther King in Memphis on April 4th 1968 was particularly moving.
But it was two unique pieces of real history that captured the imagination of members. Pat read from the War Diary of the Commanding Officer of the Anti-Aircraft group that her father served in, as they followed the main advance into Normandy in 1944.
Briefly written, presumably during the stress of action at times, its laconic style spoke more about the constant movement, the boredom and rum than the fear and discomfort that the group must have suffered. British understatement at its best.
Our hostess, who told us she was going to talk about the Battle of Rowton Moor, intrigued the group by leading them across her hall at in her old house and into the front room. To our astonishment she told us that this had been the tap room of the old Crow Inn, which, according to old local maps, was standing in September 1645 and might well have seen men of the New Model Army seek some relief from the terrors and privations of the war raging around them.
The next meeting will be on Thursday July 10th and will look at World War 1 with members looking at the impact of the fighting on different countries, not necessarily the main participants.
If you would like to find out more about Tarvin Meeting Point or would like to join us, contact Sue Hardacre on 01829 741962