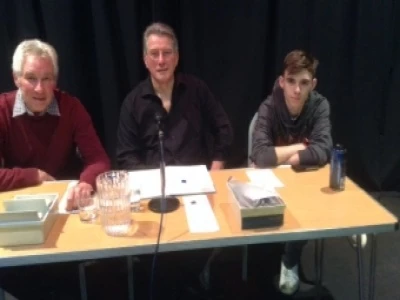 Friday night (9th January) saw 15 teams battle it out to go through to next weeks' final of the Tarvin Village Quiz.
A big audience turned out to either support their teams or just to enjoy what was a great evening out.
The photo shows Quizmaster Stewart McNeil and Timekeeper Eric Powell, ably assisted by James Sinclair
The teams making it through to next week (Friday 16th 7.30 onwards) are as follows:
The Dimwits, The Parish Council, Tarvin Meeting Point (TMP Defending Champions), St Andrew's Church, Tennis Club, The Crescent, The Methodist Church, Flower Club, and Jessops.
We therefore had to say goodbye to:
The Community Centre, The Civic Trust, TICS, W.I., Kelsborrow Choir and The Bowling Club
Let battle commence on Friday 16th January at The Community Centre