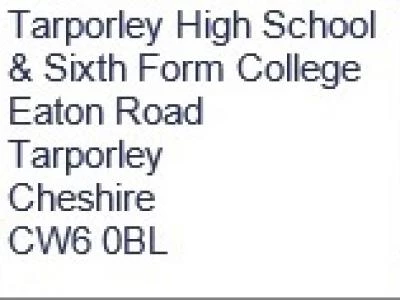 The third issue raised by members of the Public at the Parish Council meeting concerned Tarvin primary pupils transferring to secondary school who have been unable to get places at Tarporley High School, their preferred school.
The situation is still fluid but currently there are three pupils wanting to go to Tarporley High School but without a place there; the alternative school with places available is Queens Park High School in Handbridge (currently a school in special measures).
Two parish councillors and Borough Councillor John Leather are shortly to meet the Deputy Head of Tarporley High School to discuss this situation and how the problems faced by Tarvin pupils might be overcome. Before this meeting it is hoped to also meet with the Headteacher of Tarvin Primary School, Mr Davies.
The PC takes the situation seriously and doubts whether this year's problems will be a one-off. Although the PC has little influence in this matter, it will do what it can. At the meeting it was suggested that local Borough Councillors should campaign for New Homes Bonus money (a Government grant to CWaC, based on the number of new houses built) to be spent on extending Tarporley High School (the PC calculates that some £500,000 of New Homes Bonus has been "earned" by CWaC based on new houses in Tarvin parish alone).
This is an issue that all Tarvin residents, young and old, should take an interest in. If Tarvin pupils cannot get into their preferred secondary school, one immediate impact will be increased congestion on the road to Chester.
In the longer term Tarvin will become a less attractive place for families with children to live.
(Ed: we understand that as of yesterday all of the remaining 3 pupils have been granted places at Tarporley High School.
The last 8 weeks have however been very stressful for both students and parents involved in this bureaucratic nightmare)