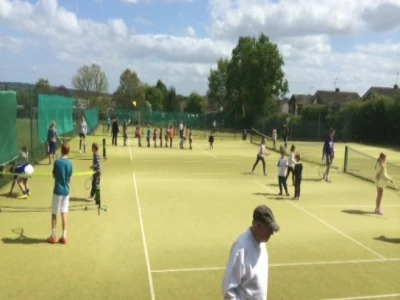 Tarvin Tennis Club's summer season is well underway and despite the relatively poor weather Club nights have been well attended. Particularly pleasing is the number of teenage boys playing on Club nights and this has resulted in the progression of one or two youngsters to the adult teams.
The junior team has had some encouraging performances and although there are a number of boys keen to play, the Club, in common with other clubs in the area, struggles to find girl players. Suggestions as to how we can better address this issue are always welcome.
Monday junior coaching sessions provide an enjoyable introduction to tennis for many local youngsters and the Club is keen for more to join the Club to enable them to play at other times so they can improve their skills and enjoy valuable exercise. With the summer holidays approaching, junior membership of the Club at £25 for the year represents very good value.
The Club is still pursuing planning applications for both a new club house and floodlights to be funded principally by a grant from Sport England. The Club is very encouraged by the recent letter of support it has received from the Lawn Tennis Association pointing out how floodlights particularly benefit the junior coaching programme by extending hours of play especially in the winter.
New members are always welcomed by the Club and more details of the Club activities can be found on our websitewww.tarvintennisclub.co.uk