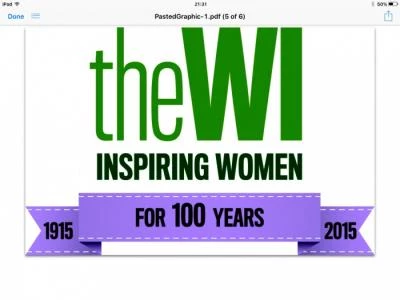 We began our month with a Walking Treasure Hunt around Nantwich. Leaving Tarvin by bus on Friday April 21st. The bus driver was quite surprised to see so many waiting at the bus stop. On arrival at Nantwich the President, Irene Wilkinson, issued each member with a list of clues and groups of 4 quickly left at 5 minute intervals on their search. It was delightful to find so many residents ready to assist us in our adventure. Morning coffee was a must on the way and members had no trouble finding unusual venues. On completion of our hunt, we had lunch at Harrison's Restaurant, ending a lovely morning.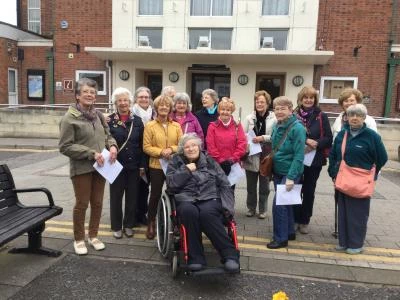 On Wednesday 26th April we had our Monthly Meeting at Tarvin Community Centre.
Our President opened the meeting with the usual notices and thanking our Quiz Team for participating in the final round at Comberbach. They came 5th but that was a great achievement as there were WI Teams from all over Cheshire taking part. We then had a discussion on one of the two Resolutions that Cheshire Federation are proposing for the Annual Council Meeting to be held in Liverpool in June. All members agreed that the first proposal 'Alleviating Loneliness' was a good resolution and unanimously voted to take the Resolution forward. The second Resolution 'Plastic Soup: keep micro plastic fibres out of our oceans' will be discussed at the May meeting.
The President then introduced our speaker for the evening Jean Finney who had come to talk to us about 'The origins of Nursery Rhymes'. Jean is a singer, songwriter and artist, a very talented lady. Giving the Group an interesting history lesson on nursery rhymes dating back to the 15th century and encouraged us to guess which rhyme was being spoken about.
Who would have thought that a nursery rhyme "Hey Diddle Diddle the Cat and the Fiddle" developed from a pub crawl around Macclesfield? She explained how The War of the Roses led to the victors the Lancastrians making fun of the Yorkist losers in the "Grand Old Duke of York." The rhyme "Little Jack Horner" was created when The Abbot of Glastonbury lost his monastery after sending his steward to appeal to Henry VIII, however, during his appeal this turncoat steward changed his allegiance. "Mary Mary Quite Contrary" tells us of the reign of Queen Mary (1553-8) and her attempt to reinstate Catholicism back into the life after Henry VIII. "Three Blind Mice" related to the Oxford martyrs who were executed as they did not agree with Queen Mary, (who was nick-named the farmer's wife), over the communion bread and wine. Thus Nursery Rhymes became a safe way of speaking out against the King, the Church and other authorities without losing your head!
We had a great insight into Nursery Rhymes by means of song and laughter, even few gasps of horror and I am sure we will look at them differently now when relating them to our families. Jean ended her talk with a hilarious song. Jenny Moult gave our vote of thanks and Jean then joined us for a well deserved cup of tea and biscuits.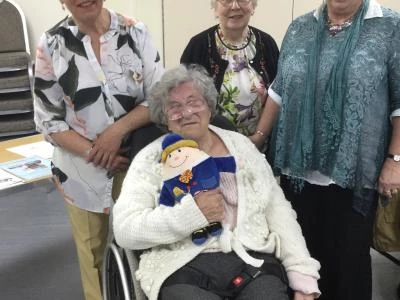 Photo: Jean Finney and members of Tarvin WI.
Our next Meeting is on Wednesday May 31st at Tarvin Community Centre 7.30pm and will be by Paul Harston – Romans in Chester – Life as a Roman Soldier. Please contact Irene Wilkinson 01829 740868 if you require any further details