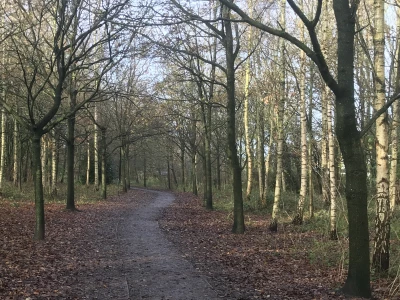 During the year 2020, many people have commented upon how well-used the woodland has been, that it has been good to have the woodland so close to the village and to be able to take our limited exercise in such delightful surroundings. However, the truth is that, while we believe that the woodland has been rather better used is true, we cannot KNOW that it is true for the simple reason that we have never counted the people who use our woodland. To begin to remedy this situation, we thought we should start by carrying out a simple head-count. This is probably as basic a survey as could be made but it IS a beginning and it will give a jumping-off point for any future work.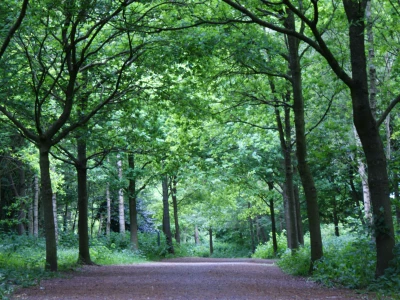 We decided to do the first survey on Sunday, 6th December 2020 – a day that proved to be chilly, miserable and occasionally wet for the eight volunteers who conducted the survey. Each one of the volunteers spent an hour at the Hockenhull Lane gateway, counting how many adults, children and dogs went past them. Over the eight daylight hours studied, the results were gratifying, with the surprisingly large number of 347 people using our woodland. Adults greatly outnumbered children, who actually made up only 16% of the walkers. Indeed, compared with the children who were walking, we found that we had three times the number of dogs using our woodland on that day!
Survey Results: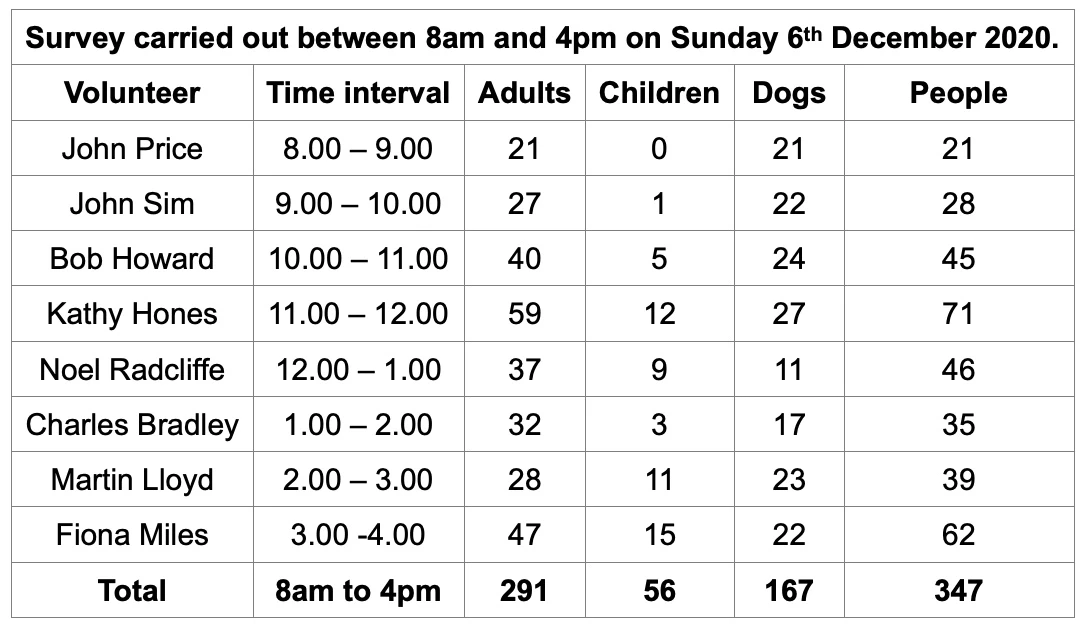 It is tempting to try to draw further conclusions from the numbers. For instance, it appears that between 8am and 9am, we had 21 people who each walked their dog. However, there was no count made of the number of dogs with each walker – some folk might have been "dog-less" while others walked two or three dogs. Similarly, It might seem that families take a walk with children either just before lunch or later in the afternoon. But we must remember that no account was taken of the relationships within groups – we just counted adults and children – and so we must be careful that we don't read too much into the figures.
What is certainly true is that the figures for total users rose from a minimum between 8am and 9am to a maximum at the end of the morning – between 11am and 12noon. During the early afternoon, the numbers declined somewhat, before returning to larger numbers in the hour or two before dusk. It is also true that the numbers for dogs show rather less variation than did those for people, which suggests that the woodland serves a particular need in giving some of the hounds of Tarvin their daily exercise.
The essence of this first survey was that it should be simple – merely a count of the people and dogs who used our woodland on a particular day. Before deciding whether to refine the survey further or to deem it completed, we intend to repeat it in its present form on the first Sundays of March, June and September 2021. After each survey, there will be a report (similar to this one) published on TarvinOnLine. Once we have the results for a year, we can then decide whether a useful purpose will be served by developing the survey further.
The folk who spent their time counting people on what was not the best of December Sundays richly deserve our thanks – as do the 'walkers' who very amiably accepted that their activities were being 'spied upon' by a group of folk who could have been random strangers. Thank you, everyone! We are grateful.