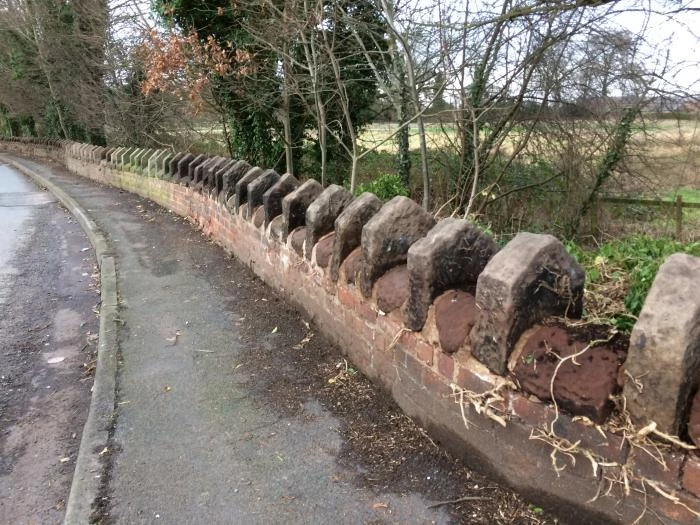 Many residents who drive along the lower part of the Lower High Street may not be aware that there is a splendid "castellated" wall along the pavement side. Apart from the fact that all drivers have their eyes on the road – obviously – the wall has been covered for many, many months in a luxuriant covering of ivy.
The wall forms part of the boundary of Oscroft Hall Farm and the farmer, Andrew Roberts has recently spent some time and man power clearing away the vegetation. The wall now stands proud and makes an eye-catching addition to the village scene. The work was carried out after a conversation between Mr. Roberts and Councillor David Cotgreave, who pointed out that the verdant greenery was starting to become bothersome to pedestrians.
The origin of this wall is rather uncertain but it may well have been built by Mr. G. B. Ratcliffe, a pioneering dairy farmer who arrived in Tarvin in 1907. As well as establishing one of the first Friesian dairy herds in the country, he also established the dairy at Pool Bank to pasteurise and bottle milk for a growing number of domestic milk rounds. It is possible that the wall was built as part of the development of the dairy.
The condition of the wall after its long submersion in vegetation is not known, but it is to be hoped that it continues to be an attractive welcoming feature to the village for many years to come.
Ed: We would be be delighted to hear from anyone who can throw any more light of the history of this local feature.