The Parish Council has recently received a number of strong complaints about the state of some of the parish's pathways. After such a warm and productive summer many of the paths on the outskirts of the village are becoming almost impassable.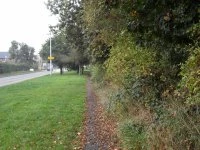 The problem is often a combination of two elements, the overgrown hedge and the disappearance of the tarred path by creeping vegetation. In some cases it is difficult for two people to walk abreast and the passage of pushchairs and wheelchairs becomes almost impossible.
Hedges are the responsibility of the owner of the adjoining property and the Parish Council urges everyone who has a hedge to go and take a critical look at their boundary and to take remedial action now.
The state of the tarmac on the path is the responsibility of the Highway Authority and the Parish Council is concerned that, with the never-ending squeeze on budgets, this type of regular maintenance is being cut back. The process to remove excess, creeping vegetation is called 'siding' and was done very successfully last year on the east side of Church Road.
A view was expressed that Tarvin was not pushing hard enough to ensure that it received a fair share of the funds available. It was agreed to seek an urgent meeting with CW&C officers and to present a detailed case, with evidence of the main sites and request that the work be carried out promptly, or at least within an agreed timeframe.
The Parish Council feels that this service should continue to be provided by CW&C from the rates paid by residents, but will look at alternatives should this problem refuse to go away.