The new housing development on the A54 by-pass called Tervyn Lea is situated on the site of the former Copper Kettle pub and restaurant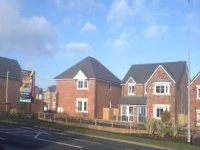 Construction of the by-pass in 1932 enabled some building to take place along that stretch of road and in 1936, The Rambler Garage and next door the Rambler Cafe were built. After the war this was described as a "roadside cafe and guest house with pleasure grounds!"
The owner of both the Rambler Garage and Cafe was a very entrepreneurial man, Zaccheus Woodfin, who in 1901, aged 25 years ,was a grocer's assistant boarding at what is now the Fish and Chip shop King Louis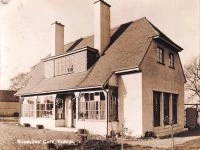 By 1910 he had his own business selling cycles in a shop in lower High Street. This shop developed with the times to sell petrol and repair cars.
Alongside this part of the business he was also the owner of the 1st horse-drawn bus in the area, and eventually owned 4 motor buses which ran via various villages to Chester on a regular service. By the early 1930's his garage and shop were in larger premises at the top of the village opposite Hockenhull Lane.
In 1946 at the age of seventy he retired and the Rambler Cafe was sold. A Mr Owen bought the cafe in about 1949/50 and it then became known as "Owen's Restaurant " Another new owner followed and another name change to "The Pandora" This name was retained until Chester Northgate Brewery bought the premises in 1966 and renamed their pub The Copper Kettle see photo below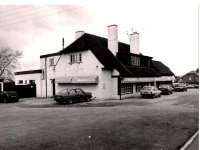 In 1984 this changed to The Village Green. Then it became The Copper Kettle again, and finally became a Thai restaurant.
The garage had closed several years ago and with 2 pubs in the village centre and changing drinking and eating habits, the pub closed and the land was sold for housing.
Pub names do change, especially nowadays but 6 names in 77 years in the life of one establishment must be a record!
It may even have had other names as I have a pencilled note in a book which says "Village Tavern," could that have been a 7th!
(Ed: A couple of years ago we published this article which covered the fascinating history of a piece of land over the last 45 years. Memories are short and most of us in Tarvin only probably remember this as the Copper Kettle Pub.).