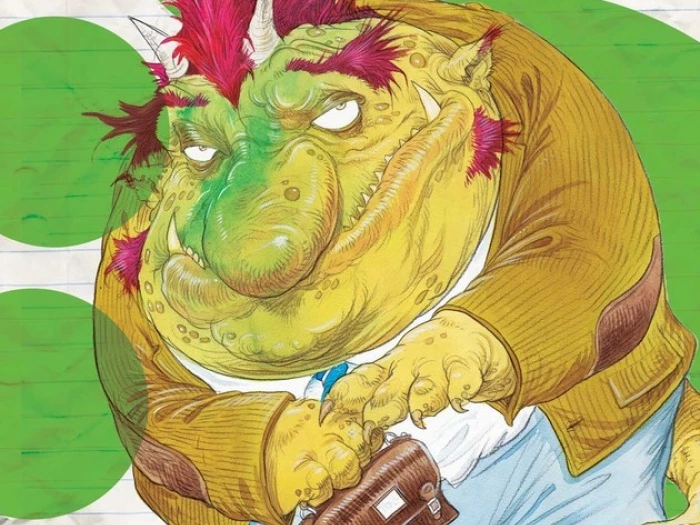 On Friday evening (Nov 6th) a lively audience of 90 assembled to meet a Troll! Given that a Troll is very smelly and slobbers disgusting slime, it was perhaps very lucky for everyone there that he existed only in the imagination of the audience. His roar though was very much present!
This was a production of the play "Our Teacher's a Troll" written by Dennis Kelly who wrote the West End success Matilda. Presented by Hal Moon productions, its style reflected the grotesque humour of Roald Dahl and by the end of the fast-moving and energetic piece no less than three children and a teacher had been consumed. There were only two actors and, apart from some great sound effects, there were no props, but what was created was a story of the mayhem caused when a Troll replaced the Head Teacher. The situation had been caused by the naughty twins, Sean and Holly who were forever asking "but why", a tactic that ultimately defeated the Troll and restored peace. Any parent will recognise the frustration that those two words can cause! It is also true to say that the adults involved, teachers, a school inspector, a policeman and a – generic – Prime Minister, did not come out of the encounter very well!
This was the second successful production at the Community Centre this autumn supported by Cheshire Rural Touring Arts and follows the sell-out performance of "Beryl" last month when a record 170 people came along.
Sue Hardacre said "We have had a wonderful season and have been delighted with the audiences. I am very pleased that so many youngsters came to see Trolls as I am a great believer in the power of live theatre to stimulate the imaginations of the young. All great ideas in any walk of life come from a lively imagination and I think that theatre can play its part in developing this. The audience on Friday were challenged to concentrate and imagine, and from the response we had, I think they rose splendidly to the occasion"
The Community Centre has just made its selection of the performances it would like to put on in the spring of 2016. There is definitely a children's production on March 11th – a play about superheroes called "Tadpoles". The adult offering could well be something quite new to Tarvin but, whatever the final decision, residents of the village can be sure that, as it comes under the Cheshire Rural Touring Arts brand, it will be professional, entertaining and well worth seeing.