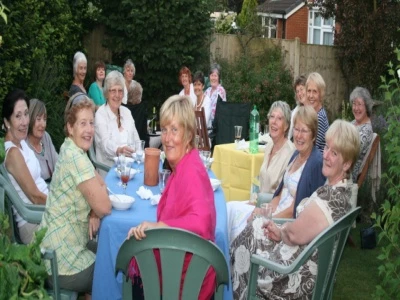 Not surprisingly, there was an excellent turn-out of members at the last meeting of Tarvin Meeting Point, a tutored wine tasting!
Organized by Stephen, the husband of one of the members, there was an opportunity to taste nine interesting wines.
The market for sparkling wines has increased greatly recently, with many more people enjoying a glass of 'bubbly' than ever before. Few though can afford the cost of vintage champagne, though one or two members who had experienced the pleasure of a very good champagne did testify to its appeal. However, a Prosecco from Italy, a Cava from Spain or a Cremant de Loire from France proved to be excellent, and cheaper, alternatives
The price of burgundy wines has risen steeply recently as the newly wealthy, global elite seek out the best known names. However, by going to nearby areas whose names are not so well known, wonderful wines at modest prices can be found. A Coteaux de Giennois Sauvignon Blanc was similar to a Puilly Fume but at a fraction of the price. Another way to get good value is to buy wines from countries where the wine growing tradition is less well known. A crisp white from Slovenia gained many high marks
Of the three red wines tasted the surprise hit was a wine from Turkey. Light in colour it had a full and pleasant taste that appealed to most of the members. However the dark and rich Cahors wine generated much stronger feelings of both pleasure and pain!
The group expressed grateful thanks to Stephen for a wonderful selection of wines and for all the hard work he had put into choosing the final nine bottles. There was a suspicion though, that this might have been more a labour of love than a chore!
The next meeting will be on Thursday 6th February when there will be a discussion of the book 'The Flea Palace' by the Turkish writer, Elif Shavak.