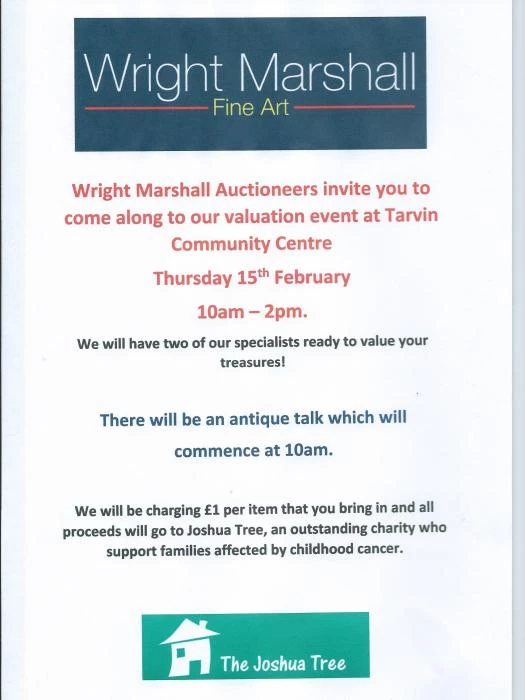 The Community Centre is delighted to offer a welcome to Wright Marshall, Fine Art Auctioneers who are to hold a charity Valuation Event on Thursday February 15th from 10.00 am to 2.00pm. The event is in aid of The Joshua Tree, a charity that supports families dealing with childhood cancers.
A highlight of the event will be a talk at 10.30 by Rachel Houston-Holland, a very experienced valuer with a wide experience in the wonderful world of Antiques. She is a specialist in Asian Art and has appeared on the ITV show "Masterpiece" with Alan Titchmarsh. She will be ably assisted by Francesca Garvey whose specialism is silver and jewellery. However, they both have wide experience and are well qualified to deal with any treasures that might come their way, so you are encouraged to bring along any item that you think will be of interest. Each valuation will cost £1 with the proceeds going to The Joshua Tree.
Sue Hardacre says "We are delighted to have been approached again to host a charity event. The perennial appeal of The Antiques Roadshow shows how much we are fascinated by our rich heritage and the linking of this event with such a worthy cause should make it an enjoyable day. Whenever old objects are valued there is always to possibility, however remote, that your old plant pot might turn out to be a Parisian Bronze Jardiniere, or the drab painting in the loo, a Van Eyck. But the fun and the pleasure are mainly found in discovering the history of an object that is, and will remain, a much-loved family treasure."