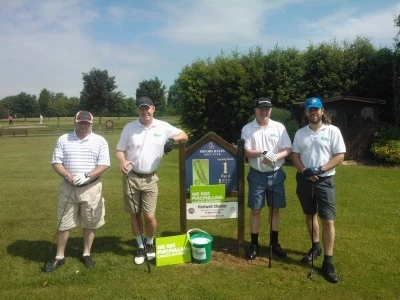 As part of the Longest Day Golf Challenge held on June 21st for the MacMillan Cancer Support, two teams of four golfers played four rounds of golf at Pryors Hayes Golf Club. A team of four from Bank of America on Chester Business Park-Mark Pierce(Capt.),Mark Dutton, Stuart Vickers & Brian Hall – and a team from the Pryors Hayes captained by Mark Sandbach played from 4.30am to 9.30 pm to complete the challenge.
The Bank of America team raised £1500.00 from sponsorship and this was matched by an equal contribution from the Bank. The event is an annual one and last year the total raised for the charity nationally was £560,000.
Martin Redrup, owner of Pryors Hayes Golf Club said "We were delighted to be able to support this event. The challenge involves 72 holes, at least 300 shots, and 20 miles of walking, and hence is not for the faint-hearted."
On the following day, June 22nd, over one hundred Pryors Hayes' members turned out to compete in the Captains Charity Day event. In addition to a four ball better ball golf completion, there was a raffle and a charity auction.
The club captain, Brian Palmer, said "I was absolutely delighted with the tremendous response from members and the event has raised £2,500 for my chosen charity, Make a Wish."
Make a Wish aim is to grant magical wishes to children and young people who are fighting life threatening conditions.
Pryors Hayes will be supporting Macmillan Cancer Support again on 27th July when from 4pm there will be a hog roast with outdoor games and a live band. Tickets for this event are available at a cost of £13.50 per head, and you can book by e-mailing chestermacmillan@hotmail.co.uk